Boiled Pork
by Editorial Staff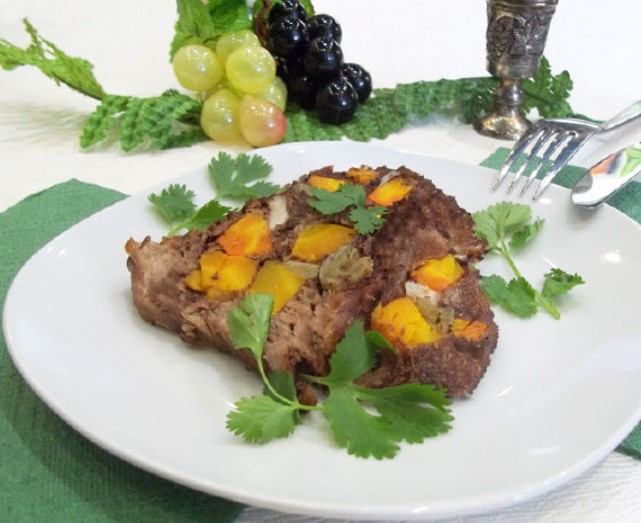 Baked meat will perfectly decorate any festive table. The appetizing and tender boiled pork will appeal to everyone who tastes a tidbit. Here is one of my favorite options for making boiled pork.
Ingredients
Pork meat (1 piece) – 700-1000 grams
Carrots – 1 pc.
Garlic – 1 head
Paprika – 0.5 teaspoon
Nutmeg – 0.5 teaspoon
Ground black pepper – to taste
Salt to taste
Directions
Peel the carrots, wash and cut into small cubes, about 1-1.5 cm in size.
Peel the garlic, wash and cut each clove in half.
Wash a piece of meat, dry it with a paper towel and make deep cuts with a knife, which we fill with pieces of garlic and carrots

In a small plate, mix all the spices: salt, black pepper, paprika, nutmeg and mix well.
With the resulting mixture of spices, wipe a piece of meat from all sides. Then we take a thread (ordinary sewing or culinary) and wrap the meat with it from all sides, so that when frying it does not fall apart, but keeps its shape.
Put the meat in a roasting sleeve, which we will fix on both sides with paper wire. Let's send the meat in a sleeve into an oven preheated to 180 degrees for 2 hours.

Pork can be served both hot and cold.

Bon Appetit everyone!
Also Like
Comments for "Boiled Pork"