Boiled Pork
by Editorial Staff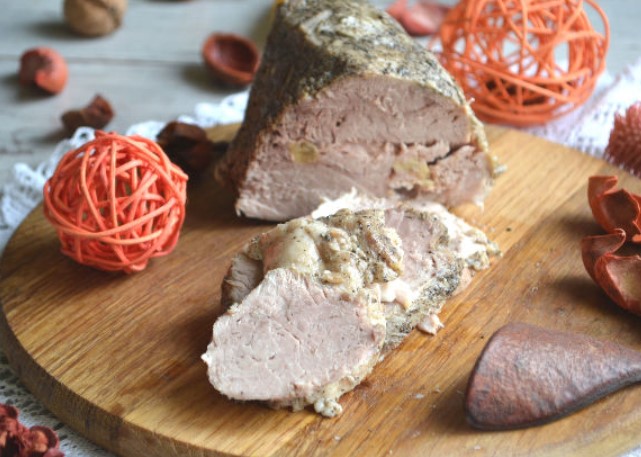 Boiled pork is most often prepared in a standard way – it is baked in the oven. But our boiled pork will be boiled in ordinary water. Of the spices for making boiled pork pork, we only need salt and pepper, as well as garlic. Despite its simplicity, it will turn out to be an excellent meat dish for a festive table.
Cook: 1 hour 30 mins
Servings: 10 mins
Ingredients
Pork (neck or shoulder) – 1 kg
Garlic – 1 whole head
Salt – 1.5-2 teaspoon.
Ground black pepper – 1.5 teaspoon.
Water – 0.8-1 l
Directions
Preparing ingredients for homemade boiled pork.
Wash a piece of pork thoroughly and dry it with a paper towel. With a sharp knife we ​​make many thin holes in the meat, in a circular motion. We put peeled cloves of garlic into these holes (if very large, cut them into pieces).

Mix salt and pepper in a separate container. Rub the pork with a mixture of spices.
Put the pork with garlic and spices in a thin plastic bag, press it tightly against the meat, release all the air and tie it tightly.
Put the meat in the second bag, release the air and tie it. We do the same with the third, last package. Put the meat in the pouches in a saucepan with boiling water and cook it for 1-1.5 hours over medium heat.

In the process of cooking boiled pork, it is necessary to turn it over a couple of times, as if twisting the bag so that the meat is cooked evenly from all sides. We also add water if necessary.
We take out the cooked boiled pork from the bags, let the meat cool and then cut the pork pork into portions.

Enjoy your meal!
Also Like
Comments for "Boiled Pork"