Meringue with Cream and Strawberries
by Editorial Staff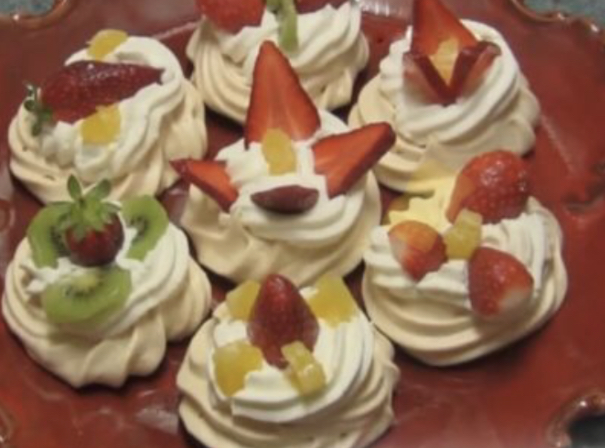 Prepare light, tender, delicious, beautiful meringues (meringue) cakes with buttercream and fruits or berries. A wonderful dessert and good mood – two in one.
Ingredients
For meringue:
Egg whites – 3 pcs.
Sugar – 150 g
Vanilla sugar – 1 sachet
Lemon juice – 0.5 teaspoon
For buttercream:
Cream (at least 30% fat) – 400 g
Sugar – 50 g
Vanilla sugar – 1 sachet
Strawberries (other berries and fruits) – 400 g
Directions
We prepare products for meringue cakes with cream and strawberries.
Separate the whites of three eggs into a mixer bowl.
Beat the whites into a strong foam at high speed. Without stopping whipping, add one packet of vanilla sugar and half a teaspoon of lemon juice.
And without stopping whipping, gradually add 150 grams of sugar.
Using a piping bag with a toothed nozzle, squeeze rings about 8 centimeters in diameter onto a baking sheet lined with baking paper or just thick white paper (you should have about 20 rings).

Dry the meringue in a preheated oven at 100 degrees Celsius for about 2 hours.
While the meringues are cooling, prepare the buttercream. Pour 400 grams of heavy cream into a mixer bowl, add one packet of vanilla sugar and 50 grams of granulated sugar. Beat at high speed until a fluffy cream is formed. DON'T KIND OUT, YOU WILL GET CREAM BUTTER!
Put the finished buttercream with a pastry bag on the meringue cakes.

Decorate with buttercream meringues with strawberries, other berries, or fruits.
Serve meringue cakes (meringues) with cream and strawberries in a good mood with hot tea or coffee.
Also Like
Comments for "Meringue with Cream and Strawberries"