Millet Porridge with Green Peas and Cream
by Editorial Staff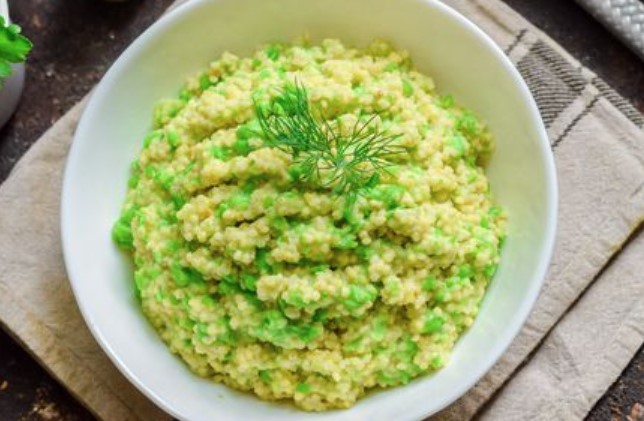 Millet porridge with green peas and cream is an unusual way to cook your favorite porridge in a new way. Young peas in combination with cream make the porridge very tender, juicy, bright, with a pleasant creamy taste.
Cook: 40 minutes
Servings: 3
Ingredients
Millet groats – 180 g (1 glass with a volume of 200 ml)
Fresh green peas (or frozen) – 100 g
Cream, 15% fat – 100 ml
Salt to taste
Ground black pepper – to taste
For the filling (optional):
Butter – 10-20 g
Fresh dill – 1-2 branches
Directions
Rinse the millet well under running cold water. Then pour 600 ml (3 cups) cold water over the cereal. Bring to a boil, cook over low heat for 25-30 minutes.
In another saucepan, boil 200-300 ml of water, put green peas and cook for 2 minutes. If the peas are not too tender (or frozen), then cook after boiling for 3-4 minutes.
After putting the peas on a sieve, leave for a while to glass all the liquid.

Put the peas in the bowl of a kitchen blender, add cream.
Grind the peas and cream at high speed.
Remove the prepared porridge from the heat.
Add mashed peas to the pan with porridge. Pour in a pinch of salt.
Mix everything well, if desired, add butter.

Arrange the millet porridge with green peas and cream on plates and serve, garnish with herbs. Such porridge is good in itself, and also as a side dish for meat, poultry, or fish.
Enjoy your meal!
Also Like
Comments for "Millet Porridge with Green Peas and Cream"