Pumpkin Porridge with Millet
by Editorial Staff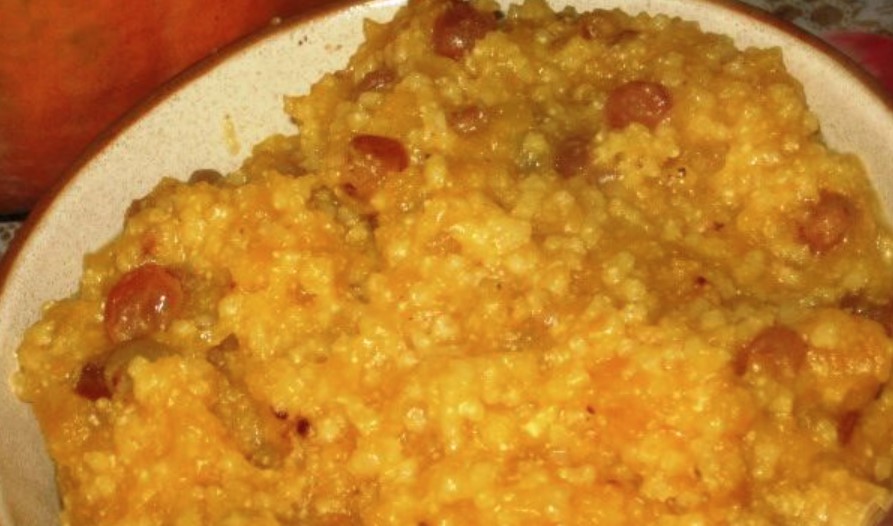 Solid pumpkins are still gaining weight, and small pumpkins have already ripened and you can pamper yourself and your household with delicious pumpkin porridge.
Ingredients
Pumpkin (choose orange, fragrant) – 0.5 kg
Millet – 0.75 cups
Sugar – 0.5-0.75 cups (depending on how sweet you like porridge)
Milk – 1 cup
Raisins – 0.5 cups
Butter – 50 g
Directions
We clean the pumpkin from the hard skin and seeds and cut it into cubes up to 1 cm. Pour in milk and set over medium heat. When it boils, reduce the heat and cook for 30 minutes. Stir sometimes.

We wash the millet well in hot water and send it to the pumpkin. Add sugar and butter. Let the pumpkin porridge with millet cook for another 25-35 minutes (depending on the quality of the millet). Do not forget to interfere sometimes. The porridge should not be steep (you can dilute it with a little water or milk). In the end, add raisins to the pumpkin porridge with millet, stir well and leave on the fire for another 10 minutes.

The pumpkin will boil completely. Pumpkin porridge with millet can be eaten cold with tea.
Enjoy your meal!
Also Like
Comments for "Pumpkin Porridge with Millet"