Millet Porridge Cutlets with Tomato Paste
by Editorial Staff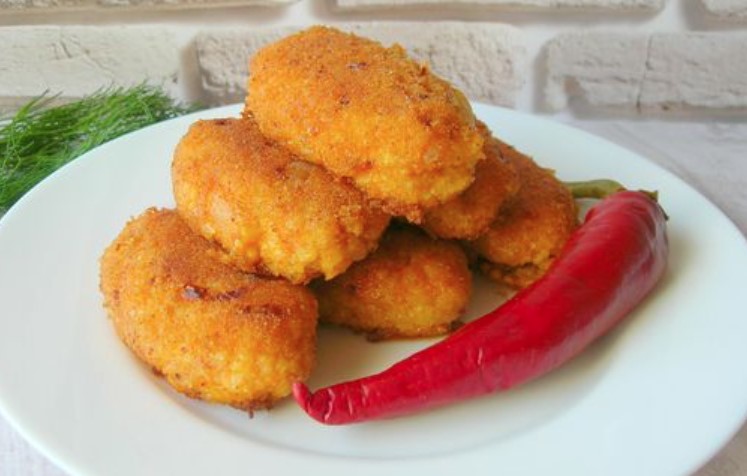 The recipe for these budget cutlets made from millet porridge with tomato paste has long taken root in my family. The cutlets are very fragrant with a crispy crust. Millet cutlets can be a complete lunch or dinner for the whole family. Also, this recipe is great for fasting or vegetarian menus.
Cook: 45 minutes
Servings: 7
Ingredients
Millet groats – 200 g
Bulb onions – 1 pc.
Tomato paste – 2 tbsp (60 g)
Ground curry – 1 teaspoon
Ground paprika – 0.5 teaspoon
Vegetable oil – 80 ml
Garlic – 3-4 cloves
Bread crumbs – 0.5 cups (200 ml volume)
Salt to taste
Water – 600 ml
Directions
We wash the millet well, changing the water several times, and pour boiling water for 5 minutes to get rid of the bitterness. Then we rinse the millet again, fill it with cold water, and put it on fire. After boiling, salt and cook the millet until tender (20 minutes).
Chop the onion and garlic.
Heat 30 ml of vegetable oil in a frying pan. Fry onion and garlic until tender. Add curry and paprika and fry for another 1-2 minutes.

Add fried onions with spices and tomato paste to the finished millet porridge. We mix. Let the porridge cool down so that you can sculpt cutlets with your hands.
Form cutlets with wet hands and bread in breadcrumbs.
Fry the cutlets in the remaining vegetable oil until golden brown on both sides.

The cutlets are ready; everything is very simple!
Also Like
Comments for "Millet Porridge Cutlets with Tomato Paste"