Millet Porridge with Pumpkin in the Oven
by Editorial Staff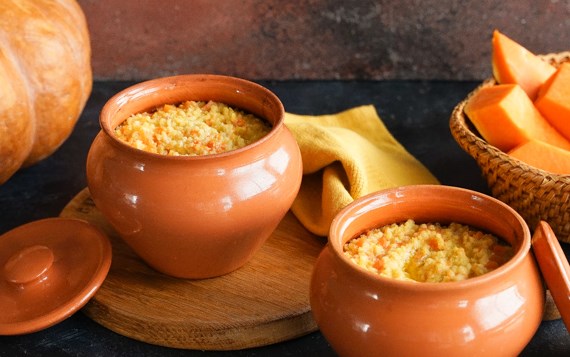 Millet porridge with pumpkin in the oven may well turn out to be as tasty as stewed on a Russian stove. If, of course, you approach the matter wisely. Millet groats should be washed several times with cold water, and then, if possible, soaked for thirty minutes. So it will turn out to be more tender and crumbly, which is what we need. To enhance the taste of cereals, choose a pumpkin with a pleasant sweetish taste and juicy pulp, such as nutmeg. And do not spare butter for millet porridge: the amount of this product can be increased to a tablespoon per serving. Add it to each pot before placing it in the oven, and be patient to wait until the dish is ready.
Cook: 1 hour
Servings: 4
Ingredients
millet – 1 glass
salt
butter – 1 tbsp
milk – 3 glasses
pumpkin – 0.5 kg
Directions
Peel and seed the pumpkin for millet porridge and cut into small cubes.
Boil milk in a saucepan, add pumpkin, salt and bring to a boil again.
Add millet, reduce heat to medium and cook porridge for 30 minutes.
Preheat the oven to 150 ° C. Arrange the millet porridge with pumpkin in portioned pots, add butter, close tightly, and put in the oven for 20-25 minutes.
Also Like
Comments for "Millet Porridge with Pumpkin in the Oven"