Pasta with Fresh Vegetables
by Editorial Staff
Fast, juicy, fresh – perhaps this is how you can describe this Italian dish. Pasta with fresh vegetables is especially good in summer, when really tasty vegetables are easy to get.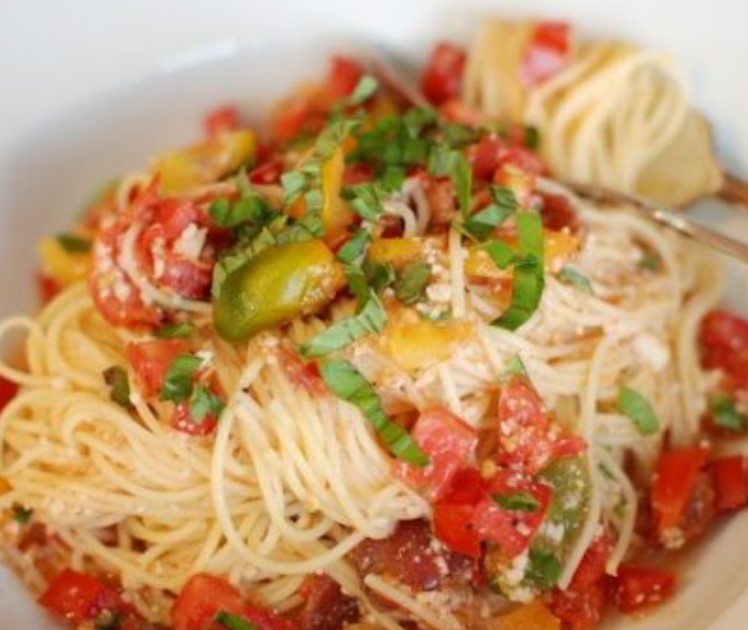 Cook: 20 mins
Servings: 4
Ingredients
Tomatoes – 1500 Grams
Olive Oil – 50 Milliliters
Garlic – 6 Cloves
Fresh basil – – To taste
Salt, black pepper, red pepper – – To taste
Pasta – 500 Grams
Directions
Cut the tomatoes (I have different colors and varieties) into small cubes.
Add finely chopped garlic to the tomatoes.
Add spices there.

Add finely chopped basil to the tomatoes.
Fill the whole thing with olive oil and set aside.
Boil the pasta (in this case, spaghetti) until tender in boiling salted water.
Vegetables covered with spices and drenched in olive oil will definitely give juice. We do not drain this juice in any way – it contains all the taste of the dish.
Add spaghetti, boiled until tender, to vegetables.
We mix.
Add grated cheese, mix.

The pasta with fresh vegetables is ready.
Bon Appetit!
Also Like
Comments for "Pasta with Fresh Vegetables"