Pineapple Pop
by Editorial Staff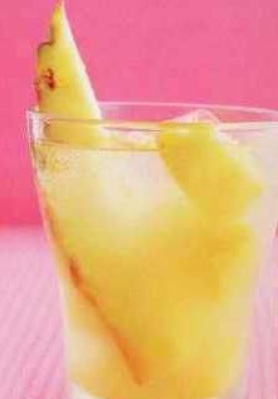 Pineapple, coconut, and lime cocktail.
Ingredients
Pineapple – 225 g
Pineapple juice – 1 glass
Coconut juice – 0.75 cups
Lime juice – 0.25 cups
Chilled sparkling water – 1 glass
Pineapple with peel – 4 slices
Frozen ice – 1 glass
Directions
Cut the pineapple into 2.5 cm cubes.
Cover a flat dish with parchment. Arrange the pineapple slices in one layer. To freeze.
Mix pineapple juice, coconut juice, and lime juice. Refrigerate for 2-24 hours.
Divide frozen pineapple pieces and ice cubes into 4 300 ml glasses.
Pour the chilled juice mixture into glasses.
Add soda, garnish with pineapple slices.
Also Like
Comments for "Pineapple Pop"