Pork Roll
by Editorial Staff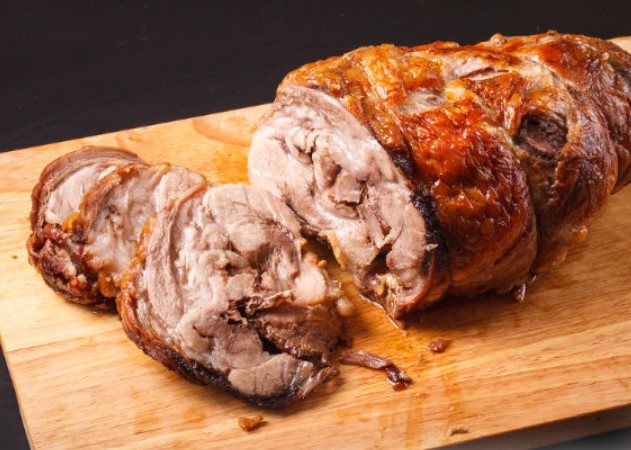 A simple, but very healthy recipe for the celebration is baked pork with garlic, rolled into a roll. It turns out almost boiled pork. Everything is simpler and cheaper here :), but just as tasty.
Cook: 1 day
Servings: 6
Ingredients
Pork (shoulder flesh or other fatty part) – about 1.5 kg
Garlic – 1 head
Medium onions – 2 pcs.
Salt to taste
Pepper to taste
Directions
We need: of course, a piece of pork (I took the fattest piece that was – from a shoulder), garlic, two onions, salt, pepper.

And auxiliary things: a baking sleeve and twine.
We marinate the meat in the evening. Sprinkle it with garlic, salt, pepper and leave in a bowl with coarsely chopped onions. Three hours before the guests arrive, we take out the meat, shake off the onion and make a roll out of it. In principle, you can put the filling in the center. It can be anything you want, but the most delicious thing will be if you lay the inside with ham and then wrap it all up. Checked! It's awesome! But we now have a simple recipe. Therefore, we simply roll up the meat tightly and tie the string. It turns out "mummy". 🙂
Then we put the "mummy" in a baking bag, tie the edges and do not forget to pierce the sleeve in several places so that it does not burst in the oven. A toothpick is perfect for this.

We put our bag in a cold oven. Temperature – 180 degrees. Time – 2 hours. After 1 hour and 45 minutes, I took out the sleeve, cut it and tucked it under the piece to form a crust. Everything is ready. Cut into portions. We put it on a dish and decorate with a side dish and herbs. I guarantee your guests will be happy! Enjoy your meal!
Also Like
Comments for "Pork Roll"