Porridge "Friendship" Made of Rice, Buckwheat and Millet, with Wild Mushrooms
by Editorial Staff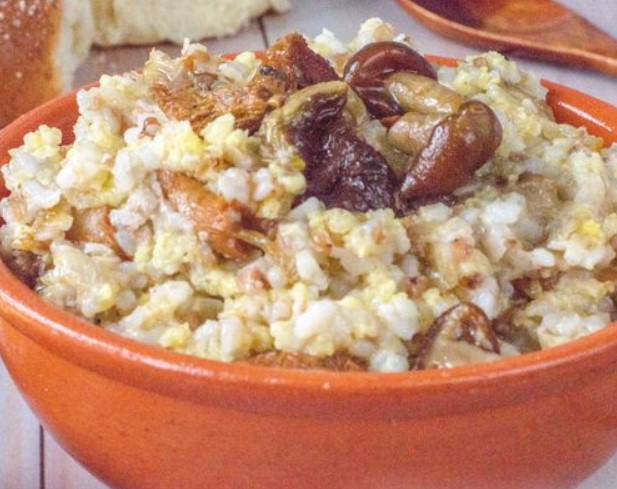 If you think that porridge is boring, you just need to cook porridge according to this recipe. Druzhba porridge with forest mushrooms is ideal: juicy, aromatic, tender and satisfying. Such a porridge is prepared from three types of cereals, which are harmoniously combined with each other, and forest mushrooms beckon with their rich aroma.
Cook: 45 mins
Servings: 5
Ingredients
Rice – 140 g
Buckwheat groats – 140 g
Millet – 140 g
Butter – 100 g
Forest mushrooms (honey agarics, chanterelles, porcini mushrooms) – 300 g
Bulb onions – 2 pcs.
Vegetable oil – 30-40 ml
Salt to taste
Freshly ground pepper (mix) – to taste
Directions
We prepare products.

We wash the cereals thoroughly.
Put cereals in a cauldron and pour 1 liter of water. We put on heat, bring to a boil, salt, then reduce the heat to a minimum and cook the "Friendship" porridge until all the liquid evaporates (25-30 minutes).
We wash the mushrooms and cut into arbitrary pieces.
Peel and dice the onion.
Heat vegetable oil in a frying pan and fry the onion for 5 minutes.
Add mushrooms, cover and fry on low heat for 15 minutes.
Put butter in porridge, mix and let it brew under the lid for 10 minutes.

Put mushrooms and onions into the porridge. Add salt and pepper if necessary. We mix.
Porridge "Friendship" with mushrooms is ready to serve.

Enjoy your meal!
Also Like
Comments for "Porridge "Friendship" Made of Rice, Buckwheat and Millet, with Wild Mushrooms"