Sandwich
by Editorial Staff
Baguette sandwich with fried chicken fillet, fresh vegetables and white spicy sauce.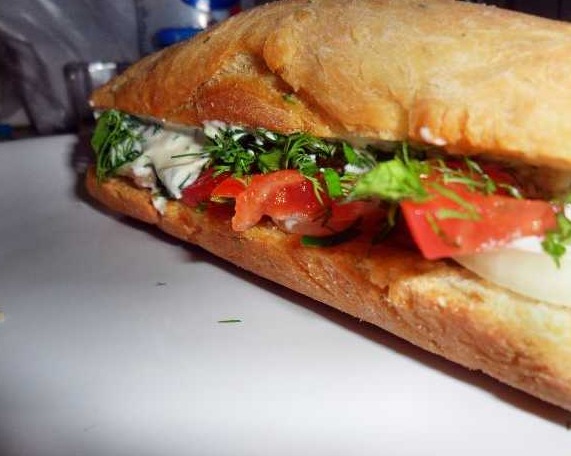 Servings: 4
Cook: 1 hour 25 minutes
Ingredients
Mini baguettes – 4 pcs.
Chicken fillet – 200 g
Vegetable oil (for frying) – 15 g
Soy sauce – 70 g
Ground black pepper – to taste
Bulb onions – 1 pc. (100-120 g)
Parsley and dill greens – 20-30 g (to taste)
Tomato – 1 pc. (150-180 g)
For the white sauce:
Mayonnaise – 4 teaspoon (40 g)
Sour cream – 3 teaspoon. (30 g)
Kefir – 3 teaspoon. (20 g)
Coriander – 0.5 teaspoon
Curry – on the tip of a knife
Dried basil – 0.5 teaspoon
Parsley and dill – sprig (finely chop)
Garlic – 2-3 cloves (through a press)
Salt to taste
Directions
Finely chop the chicken fillet, sprinkle with black pepper, add soy sauce, and marinate in the cold for an hour.
Preheat a skillet with a little oil. Fry the chicken fillet in a pan over high heat for 5 minutes, stirring frequently. Do not overdry, inside it should be juicy.

Cut the baguette longitudinally, pull out a little crumb from the bottom half, crush the other half with your fingers. Cut onion into rings, tomato into slices.
Prepare a white sauce, for which finely chop the herbs, and then mix all the ingredients for the sauce (squeeze the garlic through a press).
Place the fried fillet in the groove of the baguette, add the onion, pour over with white sauce.

Put the tomato on top, season with salt, add herbs and close the sandwich.
Bon Appetit!
Also Like
Comments for "Sandwich"