Swedish Oatmeal Cookies
by Editorial Staff
Swedish oatmeal cookies or Havrekakur are very interesting pastries. This cookie is prepared in an unusual way, but it tastes great. Lovers of oatmeal cookies will definitely appreciate this.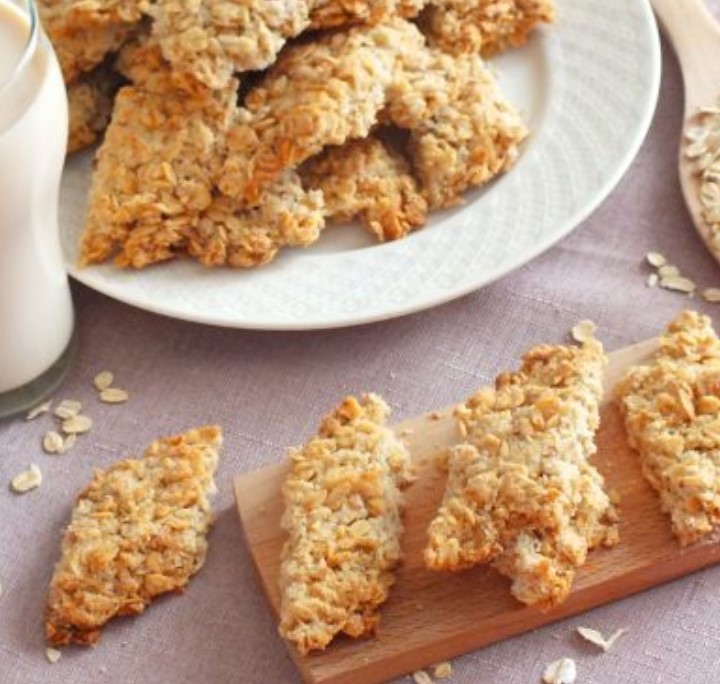 Cook: 40 mins
Servings: 3-4
Ingredients
Oatmeal – 250 grams (instant cereal)
Sugar – 0.5 cups (a glass of 200 ml.)
Wheat flour – 0.5 cups
Butter – 100 grams
Baking powder for dough – 0.5 teaspoons
Vanillin – To taste (on the tip of a knife)
Directions
Prepare the required ingredients.
Pour the oatmeal into a large bowl. Add melted butter to it. Stir.
Add flour, sugar, vanillin and baking powder. Stir with your hands. The consistency will be
crumbly, similar to wet sand.
Tamp the contents of the bowl with your hands and divide into 4 parts with a knife.
Take a baking sheet, cover with baking paper. Lay each part along the length of the baking sheet, with a mound. Press down with your palm, trim the edges so that they do not touch each other. Put the cookies to bake in an oven preheated to 180 degrees for 10 minutes.

The browned edges can serve as a signal that the cookie is ready. Remove the baking sheet from the oven. Leave the cookies on for 10 minutes. Now it is very delicate and crumbly. When it cools slightly, make oblique cuts with a sharp knife. Leave to cool on a baking sheet.
Transfer the prepared Swedish oatmeal cookies to a platter. Serve with your favorite drinks.
Bon Appetit!
Also Like
Comments for "Swedish Oatmeal Cookies"