Very Festive Salad
by Editorial Staff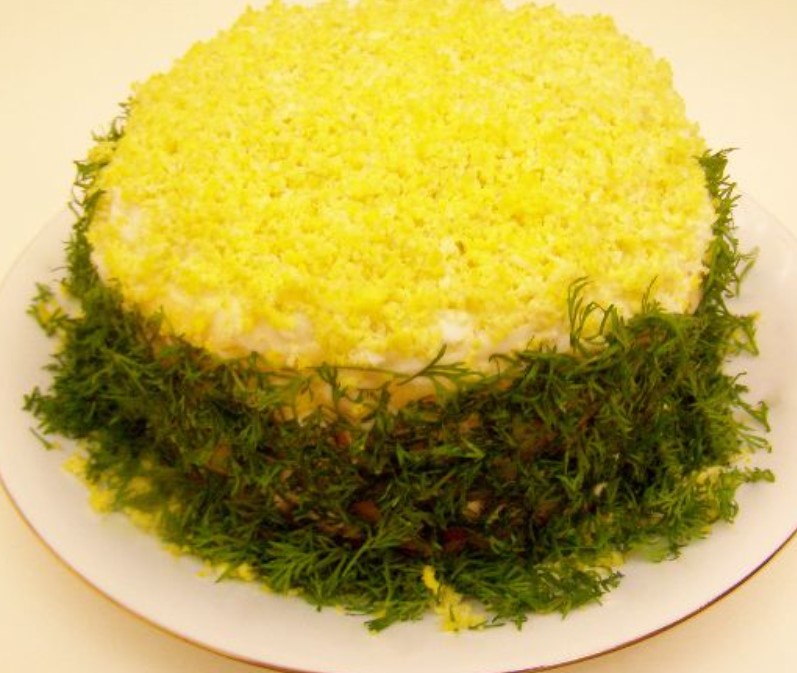 It is not in vain that this elegant dish got its name – the salad "Very festive!" Spectacular and delicious puff salad "Very festive!" will decorate any festive table.
Cook: 50 mins
Servings: 4
Ingredients
Chicken legs – 2 pcs.
Eggs – 3 pcs.
Cheese – 100 g
Walnuts – 0.5 cups
Garlic – 2 cloves
Mushrooms (champignons) – 200 g
Onions – 2 pcs.
Mayonnaise – 8-9 tbsp
Greens – 1 bunch
Salt – 0.5 teaspoon
Directions
Wash the chicken legs thoroughly. Boil 1.5-2 liters of water, add 0.5 teaspoons of salt, dip the legs in boiling water. Bring to a boil, screw on, close the lid. Cook at low boil for 25-30 minutes.
Peel the onion, cut into half rings.
Wash the mushrooms, cut into slices or slices.

Heat 1 tablespoon in a skillet. spoon of oil. Fry the onion over medium heat, stirring occasionally, until soft (10 minutes). Transfer the onion to a bowl.
Increase heat to high. Add 2 more tablespoons to the pan. tablespoons of vegetable oil. While stirring, fry the mushrooms until golden brown (10-15 minutes).
Transfer the mushrooms to the onion. Mix.
Boil eggs hard-boiled (10 minutes). Cool, clean. Separate the proteins and grate them on a fine grater.
Thoroughly crush the nuts in a mortar. It is important to crush the nuts, not chop them, so that the oil stands out.
Peel and crush the garlic.
Mix nuts, garlic and mayonnaise. You need a little mayonnaise (2-3 tablespoons).
Separate the cooled boiled meat from the bones (you can also remove the skin). Finely chop the pulp across the fibers.
Grate the cheese on a coarse grater.
Lay the salad nicely on a large flat dish in layers: 1 layer – a boiled leg, cut into strips.
Layer the meat layer with mayonnaise (2 tablespoons).
2nd layer – mushrooms fried with onions.
Also spread the layer with mayonnaise (1 tablespoon)
3rd layer – nuts crushed with garlic and mayonnaise.
And again lightly spread with mayonnaise (1 tbsp).
4th layer – grated cheese.
Add 2 tablespoon on top. tablespoons of mayonnaise.

5th layer – grated egg whites.
Sprinkle the top of the salad with grated yolks.
Decorate the sides of the salad with sprigs of herbs or chopped herbs.
A hearty salad, a very festive dish!
Bon appetit!
Also Like
Comments for "Very Festive Salad"