Yellow Rice with Chicken and Fried Cashews
by Editorial Staff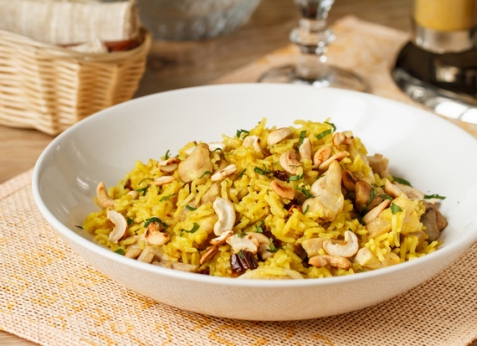 This wonderful everyday dish can be cooked a couple of days in advance and reheated. The rice can be chosen according to your taste: this recipe is steamed, but you can replace it with basmati, jasmine, or a mixture of regular rice and wild rice. You can play with nuts too. A little trick. The dish includes sun-dried tomatoes. They are usually sold in oil. So, if you add a couple of tablespoons of this oil to rice, it will give the dish an interesting flavor and make it more intense.
Ingredients
medium onion – 1 piece
garlic – 2 cloves
rice – 300 g
turmeric – 1/2 teaspoon
chicken broth or water – 700 ml
salt to taste
chicken thighs – 8-10 pieces
sun-dried tomatoes – 50 g
cashew nuts – 125 g
Directions
Chop the onion and garlic finely. Heat 2 tablespoons in a saucepan. vegetable oil. Put onion with garlic and fry, stirring occasionally, for 3-4 minutes, until translucent.
Add turmeric and fry for another 30 seconds. Put the rice in a frying pan and stir so that the oil envelops each rice.
Pour in the broth, add a little salt, bring to a boil. Reduce heat to low, cover, and cook until the liquid is absorbed and the rice is done about 20 minutes. While the rice is cooking, remove the meat from the chicken thighs and cut it into small pieces.
Fry over medium-high heat until tender and remove on a plate. In a dry frying pan, fry the nuts until golden brown.
We do not chop the tomatoes very finely. Add chicken, tomatoes, and nuts to the finished rice. Salt to taste.
Mix and heat for a couple of minutes. We serve. Enjoy your meal!
Also Like
Comments for "Yellow Rice with Chicken and Fried Cashews"