Banana Cinnamon Bread
by Editorial Staff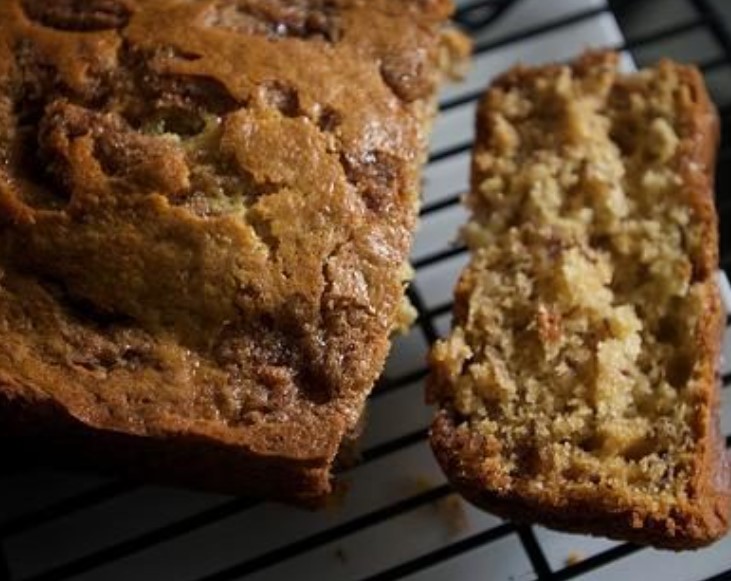 Recipe for making banana puree bread with cinnamon and vanilla extract.
Cook: 1 hour
Ingredients
Baking powder – 3/4 teaspoons
Soda – 1/2 Teaspoon
Salt – To taste
Ghee butter – 4 tbsp
Large egg – 1 Piece
Large banana, mashed potatoes – 1 Piece (about 1/2 cup)
Vanilla extract – 1 teaspoon
Chilled butter – 1 tablespoon. spoon (for the top)
Brown sugar – 1 Tbsp. spoon (for the top)
Ground cinnamon – 3/4 Teaspoons (for the top)
Flour – 1 Art. spoon (for the top)
Salt – To taste (top)
Directions
Preheat the oven to 175 degrees. Grease a baking sheet with a bread pan.
Mash the banana in a bowl to a puree consistency, you should make about 1/2 cup.
In a large bowl, combine flour, sugar, baking powder, baking soda and 1/2 teaspoon salt. Add melted butter and buttermilk. Add egg and beat for 1 minute.
Add banana puree and vanilla extract. Stir well.
Put the resulting dough into the prepared bread pan, smooth the surface with a rubber spatula.
To make a sprinkling for the top, mix chilled butter, diced, with flour, brown sugar, cinnamon and a pinch of salt.

Sprinkle the mixture over the top of the bread. Bake the bread in a preheated oven for 40-45 minutes, until a toothpick inserted in the center comes out clean.
Allow to cool on a wire shelf for 10 minutes. Cut the bread into slices and serve.
Bon appetit!
Also Like
Comments for "Banana Cinnamon Bread"