Buckwheat Sponge Cake with Cinnamon
by Editorial Staff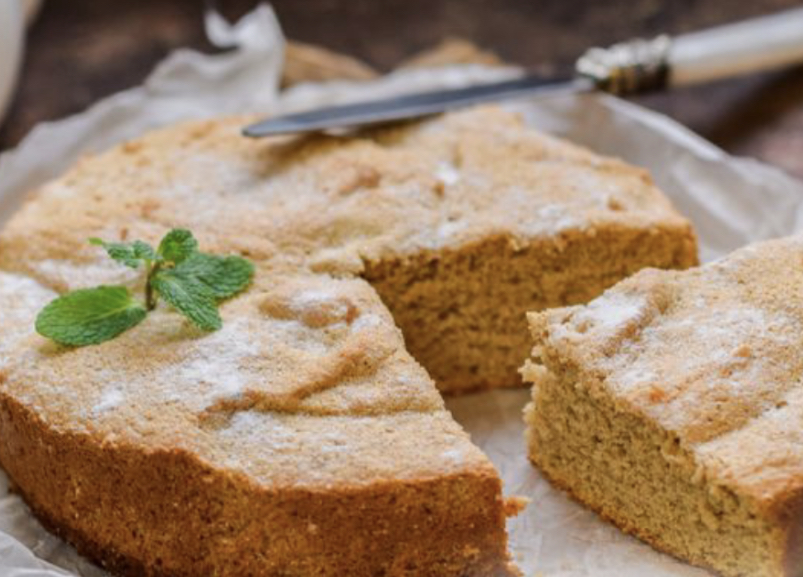 Today we are preparing a simply magical buckwheat biscuit with cinnamon – tall, airy, soft, very aromatic, and gluten-free. Such a biscuit can be easily cut even into 4 cakes and can serve as an excellent base for cakes. I liked this version of the biscuit, and I advise you to take note of this recipe.
Ingredients
Eggs – 3 pcs.
Sugar – 90 g
Buckwheat flour – 75 g (0.5 cups, 250 ml)
Ground cinnamon – 0.5 teaspoon
Salt – 1 pinch
Vegetable oil (for lubricating the mold) – 1 tbsp
Directions
Prepare all products according to the list.
Preheat the oven to 180 degrees.

Break the eggs gently, dividing them into yolks and whites. Place the yolks in a deep container.
Send the egg whites to a separate dry mixing bowl.
Add sugar, cinnamon, salt to the yolks.
Using a mixer, beat the egg yolks with sugar until whitened. Add buckwheat flour.
Stir for a thick dough.
Beat the whites for the first minute at the minimum mixer speed. After increasing the speed, beat the whites for another 2-3 minutes, until stable peaks.
Put the whipped proteins in small portions into a bowl with the dough, and after each addition, gently stir the dough in a circular motion, introducing the protein foam.
The dough is airy and fluffy.

Grease the bottom of the baking dish. Fill in the form with dough and send it to an oven preheated to 180 degrees for 35-40 minutes.
Check readiness with a wooden skewer – it should come out dry and clean from the finished cake.
Buckwheat sponge cake with cinnamon is ready. Let it cool slightly in the mold.
Carefully remove the cooled biscuit from the mold and serve.

It turns out very tasty.
Enjoy your meal!
Also Like
Comments for "Buckwheat Sponge Cake with Cinnamon"