Cheeseburger with Bacon
by Editorial Staff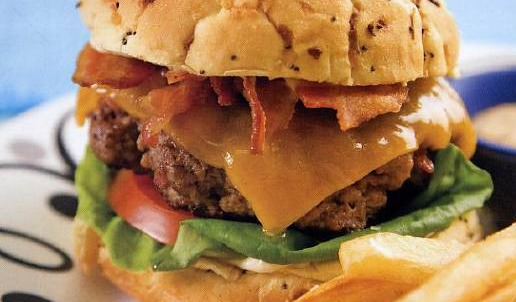 The history of the hamburger can be traced back to the time when the Mongol nomads of the time of Genghis Khan satisfied their hunger with a piece of meat wrapped in a bread cake. By the 18th century, minced meat in the form of round pieces was already well known and loved in Europe. And thanks to the inventors of the "classic" hamburger (at the end of the 19th century, many claimed the championship in the United States), it became the American "lifestyle". In our country, a hamburger is not considered a decent food and is associated with "fast food". It's a pity. A good meat cutlet with vegetables, spices, and cheese (cheese changes the name of the hamburger to "cheeseburger") is quite worthy of attention.
Servings: 5
Ingredients
Bacon – 450 g
Ground meat (beef) – 700 g
Worcestershire sauce – 1 tbsp
Salt – ½ teaspoon.
Ground black pepper – ½ teaspoon.
Mayonnaise – ¾ glass
Horseradish – 2 teaspoon.
Buns (onion) – 5 pcs.
Lettuce leaves (lettuce) – 5 pcs.
Tomatoes – 5 circles
Cheddar cheese – 5 slices
French fries (optional)
Directions
Fry the bacon slices in a skillet until crispy. Cut the buns in half and fry a little.
Toss the ground meat with Worcestershire sauce, salt, and pepper. Chop 6 slices of bacon and add to the minced meat. Form 5 round patties from the minced meat.
Preheat the grill to 180-200 degrees. Sprinkle with non-stick spray.
Grill patties covered for 7-8 minutes on each side.
Toss mayonnaise, horseradish, and 3 crumbled bacon slices separately. Brush the bottom of the buns with this mixture. Place lettuce, tomato, meat cutlet, cheese, and leftover bacon. Cover with the top of the bun. Serve a deep-fried cheeseburger with julienned potatoes.
Bon Appetit!
Also Like
Comments for "Cheeseburger with Bacon"