Cheeseburger in French Toast
by Editorial Staff
Before you, as for me, an improved version of the classic cheeseburger – a cheeseburger in French toast. And to find out what its peculiarity is, read on the cooking recipe!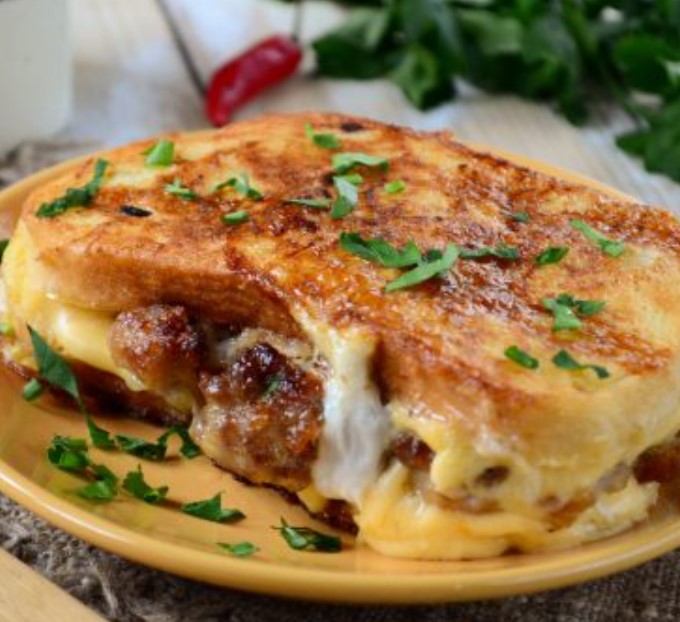 Cook: 30 mins
Servings: 2
Ingredients
Minced meat for cutlets – 400 Grams
Vegetable oil – 3 Tbsp. spoons
Bread – 4 Slices
Hard cheese – 100 Grams
Eggs – 3 Pieces
Cream 10% – 100 Milliliters
Salt – 2 Pinches
Garlic Powder – 1 Pinch
Ground black pepper – 1 Pinch
Directions
Prepare all the ingredients you need. I prepared minced meat for cutlets in advance according to the same principle as I usually cook cutlets: I passed the meat through a meat grinder along with onions, added a little bread soaked in milk, an egg, salt and pepper to taste.

Form 2 large, long, thin cutlets from the minced meat, fry them over medium heat, covered, until tender.
We begin to collect the cheeseburger. Place a few slices of thinly sliced ​​cheese on top of a slice of bread to cover the bread as much as possible.
Place the cutlet on top.
Cover everything with cheese again.
Cover with a second slice of bread.
Beat the eggs with the cream, salt, pepper and garlic powder.
Dip the prepared cheeseburger on both sides in the egg mixture and hold for a little so the bread is thoroughly soaked, but not completely soaked.

Fry the French cheeseburger over medium heat until the egg has set and the cheese is melted.
The cheeseburger in French toast is ready. Serve hot and enjoy!
Bon appetit!
Also Like
Comments for "Cheeseburger in French Toast"