Chicken with Honey
by Editorial Staff
Use your favorite chicken spices or leave them alone, the chicken will be flavorful and delicious thanks to the garlic, soy sauce and lemon. I put in a pinch of spices, the composition is as follows: ground chili, paprika, basil, coriander, nutmeg.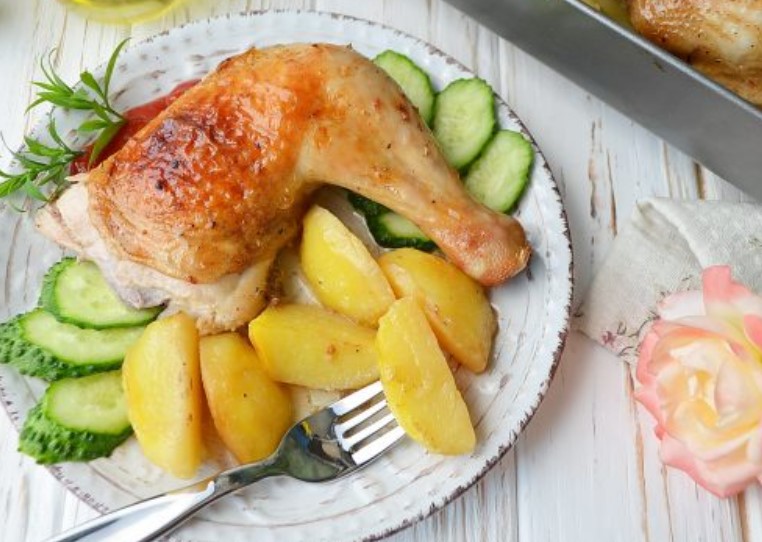 Cook: 3 hour
Servings: 6
Ingredients
Chicken – 1.5 Kilograms
Liquid honey – 3 tbsp
Vegetable oil – 30 Milliliters
Lemon juice – 1 Tbsp. the spoon
Salt, pepper – To taste
Soy sauce – 4-5 Art. spoons
Chicken Spices – To taste (optional)
Directions
Prepare the necessary products, let's get started! Wash the chicken very thoroughly, remove the remnants of feathers, the coccygeal gland (it is located under the tail of the chicken), be sure to peel off the yellow rough skin on the legs with a knife.
Prepare the marinade. For this, mix honey with soy sauce, vegetable oil, spices, add garlic (finely chop or pass through a press), salt and ground pepper to taste. Stir.
Marinate the chicken inside and out, wrap a plastic bowl with plastic wrap and refrigerate for 2 hours.
Chicken can be baked in whole or in parts. My oven is small, so I cut it in the brisket and unfolded it. In this form, it will bake faster. To save time on cooking dinner, I immediately put the potato wedges on the bottom, and placed the chicken on top
Bake the chicken in a hot oven at 240 degrees for 45-50 minutes. Adjust the time and power to suit your oven.
Bon appetit!
Also Like
Comments for "Chicken with Honey"