Curd Charlotte with Apples
by Editorial Staff
Apple charlotte often appears on our tables in the fall. This pastry is good both in the classic version and with some changes. This time, add cottage cheese and a little sour cream to the dough – you get an excellent cottage cheese pie with apples.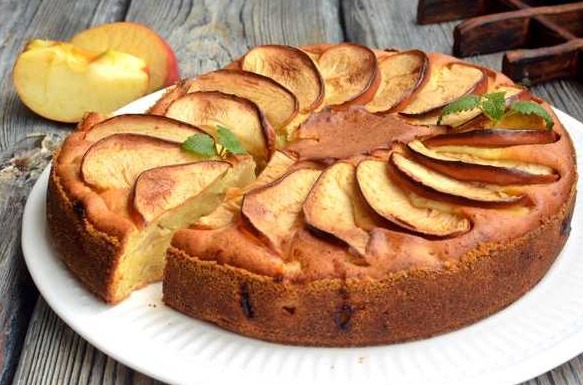 Servings: 6
Cook: 1 hour 10 minutes
Ingredients
Apples – 400 g (2-3 pcs.)
Cottage cheese 5-9% – 150 g
Sour cream – 75 g
Eggs – 3 pcs.
Sugar – 80 g
Flour – 150 g (about 1 glass with a capacity of 250 ml)
Baking powder – 1 teaspoon
Vanillin – 1 pinch
Ground cinnamon – 0.5 teaspoon
To prepare the form:
Butter – 20 g
Bread crumbs – 1 tbsp
Directions
Prepare all ingredients.
Apples are best taken in large, sweet and sour varieties.
Sift the flour.
Combine sugar and eggs in a suitable container and beat until sugar dissolves.

The mass has increased in volume by 5-6 times, the foam keeps its shape. It took me about 5-6 minutes of beating at high speed in a blender with a whisk attachment.
Combine cottage cheese with sour cream and mash with a fork until smooth. If the curd is dry and lumpy, grind the mass with a blender.
Transfer the beaten eggs with sugar to a large bowl and add the curd and sour cream to it. Stir.
Add vanillin, baking powder and sifted flour to the dough, mix again.
Turn on the oven to heat up to 180 degrees.
Save one apple for garnish. Peel the rest of the apples and cut the seed pods into large pieces. The more apples you add to the charlotte, the juicier and tastier it will be.
Sprinkle cinnamon on the sliced ​​apples.
Add apples to dough and stir gently.
Cover the detachable form with parchment, grease the bottom and sides with butter and sprinkle with breadcrumbs.
Fill the prepared form with dough, smooth the surface.
Peel the apple for decoration and cut into slices 3-4 mm thick.

Place the apple slices in a beautiful pattern on the dough in the form.
Send the form into an oven preheated to 180 degrees and bake the cottage cheese pie with apples for 40-45 minutes, until golden brown.
Check the readiness of the cake with a wooden stick – it should remain dry.
Remove the curd charlotte from the mold and transfer to a wire rack to cool completely.
Apple curd pie is soft, aromatic, with juicy apple pieces. It cooks quickly, and eats even faster! Bon Appetit!
Also Like
Comments for "Curd Charlotte with Apples"