Excellent Brussels Sprouts
by Editorial Staff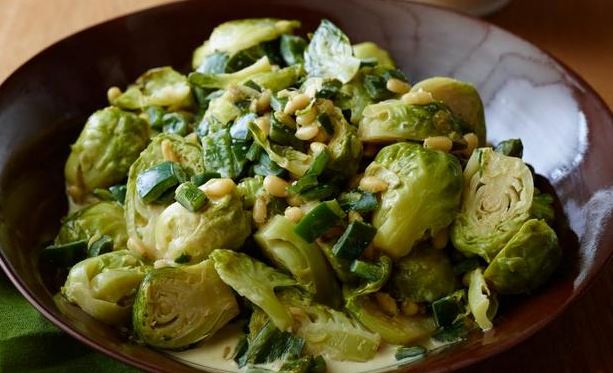 To prepare this garnish, the heads of Brussels sprouts are cut in half so that they are better saturated with a delicious creamy sauce. Brussels sprouts are first stewed in chicken broth until tender and then mixed with a separately cooked sauce of heavy cream, green onions, fresh chili, and pine nuts. It will take you less than half an hour to cook, and the side dish will turn out to be very festive and unusual.
Cook: 25 minutes
Servings: 6
Ingredients
2 tbsp butter, divide
0.7 kg. Brussels sprouts halved
1 tablespoon. chicken broth
0.5 tablespoon. green onions, thinly sliced (only white and light green parts)
2 more or poblano peppers, peeled of stalks and seeds, coarsely chopped
0.5 tablespoon. pine nuts
0.5 tablespoon. heavy cream
Directions
In a large heavy-bottomed saucepan, melt 1 tbsp Add brussels sprouts and stir until covered with oil, 1 minute. Pour in stock, cover, and simmer until Brussels sprouts are tender about 7 minutes. Remove the lid and continue cooking until all the broth has evaporated for about 4 minutes. Transfer the Brussels sprouts to a medium bowl.
Melt the remaining 1 tablespoon in the same skillet. l. butter. Add green onions, chili peppers, and pine nuts. Sauté until the nuts are browned and the peppers are soft about 2 minutes. Add cream and bring to a boil. Reduce heat, return Brussels sprouts to the saucepan and stir to coat with cream. Season with salt and pepper to taste and serve.
Also Like
Comments for "Excellent Brussels Sprouts"