Fried Eggs with Pumpkin, Tomatoes and Feta Cheese
by Editorial Staff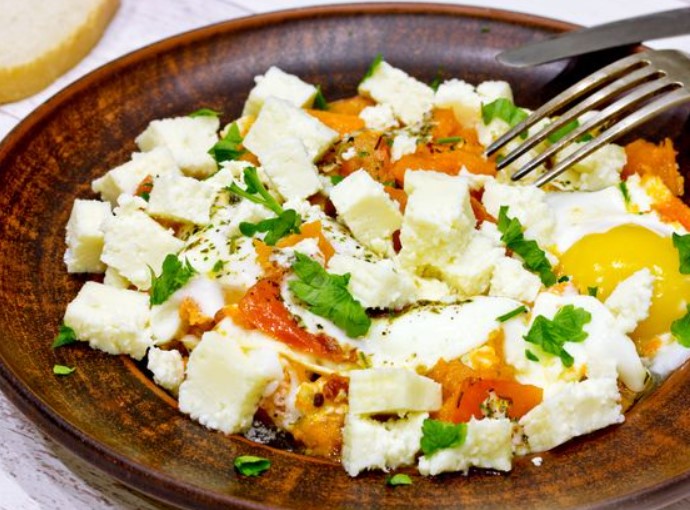 Simple scrambled eggs turn into a hearty, bright and sophisticated dish, you just have to supplement it with pumpkin, tomatoes and feta cheese! Cooking such scrambled eggs will not take much time, but the result will definitely please!
Cook: 15 mins
Serving: 1
Ingredients
Pumpkin – 100 g
Tomato – 1/2 pc.
Bryndza – 80 g
Eggs – 2 pcs.
Salt to taste
Ground black pepper – to taste
A mixture of dry herbs (I have Italian) – 2 pinches
Sunflower oil (for frying) – 2 tbsp
Fresh parsley or other herbs (optional) – 1-2 sprigs
Directions
Prepare all the ingredients you need to make the scrambled eggs with pumpkin, tomatoes and feta cheese.

Peel and seed the pumpkin and cut into small slices.
Heat the sunflower oil in a skillet. Place the chopped pumpkin in a skillet and fry over high heat until tender, about 4 minutes. Lightly salt the pumpkin during frying.
Wash the tomato, cut into medium-sized slices.
Add the tomato to the pumpkin pan.
Continue to fry the pumpkin and tomato over high heat for about 2-3 minutes.
Then beat in the eggs gently.
Sprinkle the eggs with salt, black pepper and a dry herb mixture of your choice (I have Italian herbs).
Cover the pan with a lid and over medium heat, bring the eggs to the desired degree of readiness (more browned – about 4-5 minutes, with liquid yolks – about 2-3 minutes).

Transfer the scrambled eggs, pumpkin and tomatoes to a plate. Cut the cheese into small cubes and sprinkle the eggs with them.
Sprinkle the prepared dish with chopped parsley or any other herbs of your choice, if desired.
Scrambled eggs with pumpkin, tomatoes and feta cheese are ready, serve immediately after cooking.

Enjoy your meal!
Also Like
Comments for "Fried Eggs with Pumpkin, Tomatoes and Feta Cheese"