Fried Oatmeal with Egg
by Editorial Staff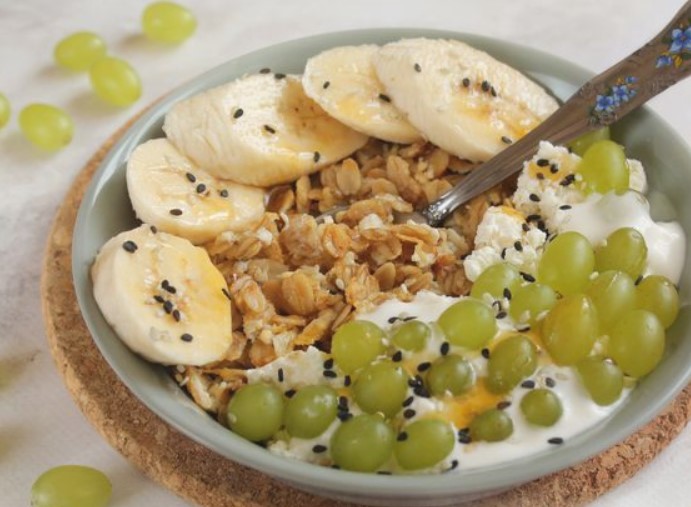 The original breakfast is oatmeal with egg fried in a pan. You can serve it with cottage cheese and sour cream, with any fruit or berries.
Cook: 7 mins
Serving: 1
Ingredients
Instant oatmeal – 3 tbsp
Egg – 1 pc.
Cottage cheese – 2 tbsp
Sour cream – 1 tbsp
Banana – 0.5 pcs.
Seedless grapes – 70 g
Honey – to taste
Black sesame – to taste
Vegetable oil – 1 tbsp
Directions
We prepare products according to the list.

Pour dry oatmeal into a pan with heated vegetable oil.
Fry for a couple of minutes, stirring occasionally, until golden brown.
Drive the egg into the fried oatmeal. Stir and continue to fry for another 1-2 minutes.

The egg should grab.
We spread the oatmeal and egg on a plate and add fresh cottage cheese and sour cream. Peel the bananas and cut them into slices. Separate the grapes from the twigs.
We add fried oatmeal with egg, cottage cheese and sour cream with honey, banana and grapes. Sprinkle with sesame seeds and serve immediately.

Enjoy your meal!
Also Like
Comments for "Fried Oatmeal with Egg"