Oatmeal with Fried Apples
by Editorial Staff
Recipe for making oatmeal with apples fried in butter with maple syrup and cinnamon.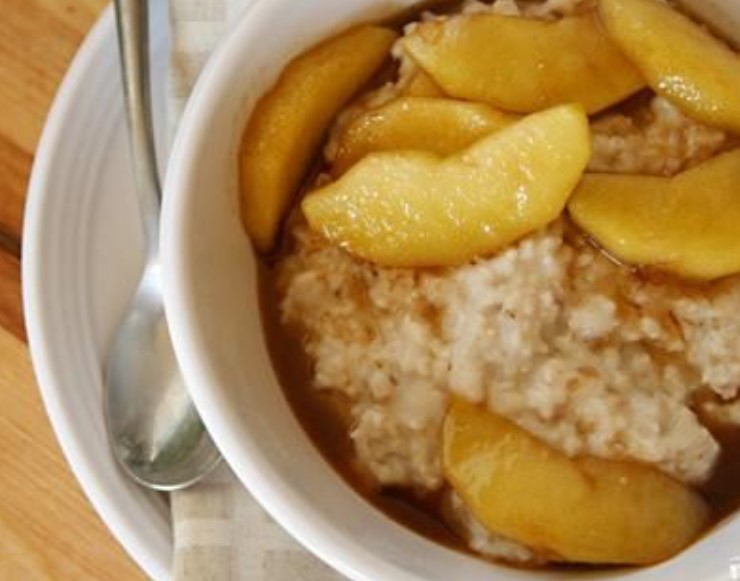 Cook: 40 mins
Servings: 4
Ingredients
Unsalted butter – 1 Tbsp. the spoon
Salt – 1/4 Teaspoon
Butter – 2 Tbsp. spoons (apples)
Large apples – 3 Pieces (about 650 g)
Maple syrup – 1 Tbsp. spoon (plus ½ cup) apples)
Ground cinnamon – 1/2 Teaspoon (apples)
Directions
Peel and core the apples, cut into 1 cm slices. Melt the butter in a large skillet over medium heat.
Add apples and 1 tablespoon of maple syrup. Fry until apples are tender, about 5 minutes. Add remaining ½ cup maple syrup and cinnamon. Simmer for about 1 minute.

Prepare porridge. Bring water and milk in a large saucepan to a simmer over medium heat. Heat butter in a medium skillet over medium heat until frothy. Add oatmeal and fry, stirring constantly with a wooden spoon, until golden brown and aromatic, 1½ to 2 minutes. While stirring, pour the toasted oatmeal into a saucepan with boiling liquid, reduce heat and cook until the porridge thickens, about 20 minutes. Add salt and stir with a spoon. Continue cooking, stirring occasionally with a wooden spoon, until the oatmeal has absorbed most of the liquid and swelled, 7 to 10 minutes.
Remove from heat and let the porridge stand for 5 minutes. Serve immediately with fried apples.
Bon appetit!
Also Like
Comments for "Oatmeal with Fried Apples"