If you're in the mood for some street food, here's a quick-to-make snack recipe. It is suitable for breakfast, dinner, snacks, and you can also take it with you to work, on the road, or on a picnic. The advantages of homemade fast food are obvious: firstly, you are confident in the quality of the products used for cooking; secondly, you can vary the composition of the ingredients based on your preferences; and thirdly, you can adjust the number of seasonings to your liking – salt, pepper, sauces, etc.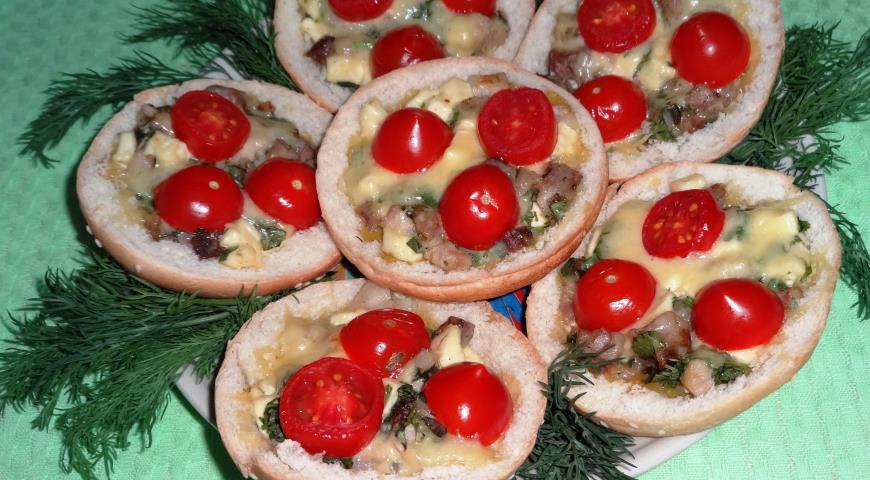 Servings: 6
Ingredients
burger buns 3 pcs.
boiled pork 100 g
Adyghe cheese 100 g
cherry tomatoes 6 pcs.
eggs 3 pcs.
cheese 100 g
cilantro 0.5 bunch
salt
freshly ground black pepper
Directions
Cook time: 20 minutes
Total time: 20 minutes
Cut the burger buns in half lengthwise. Select part of the crumb from the buns to make small indentations.
Cut the boiled pork into small cubes. I used homemade boiled pork.
Cut the Adyghe cheese into small cubes.
Wash cilantro, dry, chop finely.
Wash cherry tomatoes, dry, cut across into 3 parts.
Put chopped baked pork, Adyghe cheese, cilantro into a bowl, beat in eggs, salt, pepper, mix.
Put the bun halves in a mold and fill with the filling.
Grate cheese on a fine grater.
Sprinkle grated cheese over the filling of the buns.
Put cherry mugs on the cheese. Place the dish with the appetizer in the oven preheated to 180 ° C for 5-7 minutes.
The hot buns are ready. Serve for breakfast or dinner, garnished with herbs. Bon Appetit!
Also Like