Lazy Dumplings with Minced Meat and Sauerkraut
by Editorial Staff
No matter how it sounds! .. Do not be lazy and make these German lazy dumplings – dough rolls with minced meat and cabbage. Everything is simple and very tasty, and you can dream up with the filling. I'm sure you will try it once – and this delicious recipe will help out and delight you very often!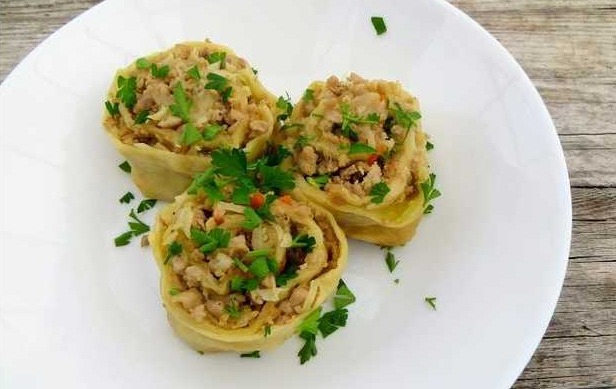 Ingredients
For the dough:
Flour – 400 g
Eggs – 1 pc.
Vegetable oil – 40 ml
Water – 180 ml
Salt to taste
For filling:
Sauerkraut – 500 g
Minced meat – 500 g
Bulb onions – 1-2 pcs.
Salt to taste
Ground black pepper – to taste
Vegetable oil – for frying
For filing:
Fresh parsley – 1 small bunch
Sour cream – to taste
Directions
Add salt to the water, stir.
Add the egg, vegetable oil and water and salt to the flour. Knead the tough dough. Everyone's flour is different, so don't add all of the water at once (I have about 20 ml left).
Leave the dough under a film (or in a bag) for 15-20 minutes.
While the dough is "resting", let's start filling.
Cut the onion into small cubes, fry in a little oil until light golden brown.
Add minced meat, knead. Simmer for 10 minutes, bring to half-readiness.
We send sauerkraut to the pan (we squeeze well before that) and simmer the cabbage with minced meat for another 10 minutes. Add salt and black pepper to taste. Let the filling cool quickly (for this we transfer it to a bowl).

Roll out the dough into a large layer, not very thin, about 3 mm thick.
We spread the filling on the dough and distribute it evenly. We leave one edge of the dough without minced meat. Lubricate this edge with water and roll up a tight roll (the greased edge will glue the roll well).
We cut the roll into roll washers 2-2.5 cm wide.

Carefully place lazy dumplings with meat and cabbage on the bottom of the pan and fry (seal) in a little oil for a couple of minutes. Then fill with water so that it covers the dumplings by 2/3. Cook over low heat, covered, for 10 minutes (if the water boils off earlier, add a little).

Sprinkle ready-made lazy dumplings with sauerkraut and minced meat with chopped parsley and serve with sour cream.
It turned out very tasty – the dough is steamed, there is a lot of filling!
Bon Appetit!
Also Like
Comments for "Lazy Dumplings with Minced Meat and Sauerkraut"