Lazy Stuffed Cabbage Rolls with Minced Meat and Bulgur
by Editorial Staff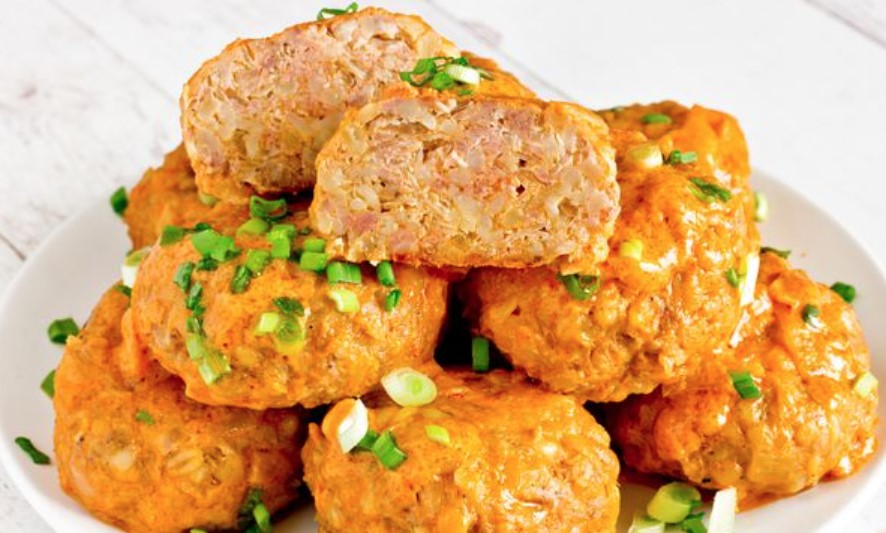 I offer you an original recipe for lazy cabbage rolls. Its highlight is the substitution of bulgur for rice. It tastes like a new dish, although minced meat, cabbage, and sauce – everything is like in the classic recipe. I recommend, our family really liked this version of lazy cabbage rolls!
Cook: 1 hour 30 minutes
Servings: 2
Ingredients
White cabbage – 250 g
Minced pork and beef – 500 g
Bulgur – 70 g (4.5 tablespoons without a slide)
Bulb onions – 1 pc.
Egg – 1 pc.
Sour cream – 3 tbsp
Tomato paste – 1 tbsp
Salt to taste
Ground black pepper – to taste
Sunflower oil – 3 tbsp
Directions
Put the bulgur into a bowl and pour boiling water over it, stir and leave for 10 minutes.
Chop the white cabbage thinly.
Peel the onion and cut it into small cubes.
Transfer the minced meat to a bowl.
Add cabbage, onion, and bulgur (no remaining water).

Also add the egg, salt, and black pepper.
Mix everything well.
Pour sunflower oil into the pan. With your hands moistened with water, form round cutlets from the minced meat and slightly flatten. Place the lazy cabbage rolls in the pan.
For the sauce, combine tomato paste, sour cream, 400 ml water, and a couple of pinches of salt.
Pour lazy cabbage rolls with bulgur with sour cream-tomato sauce.
Cover the pan with a lid and place over high heat. Once the sauce has boiled, reduce the heat and simmer the lazy cabbage rolls for about 35 minutes. During this time, stuffed cabbage can be turned a couple of times so that they cook evenly.

Lazy cabbage rolls with minced meat and bulgur are ready. Serve hot.
Enjoy your meal!
Also Like
Comments for "Lazy Stuffed Cabbage Rolls with Minced Meat and Bulgur"