Pea Porridge with Fried Onions
by Editorial Staff
Dry peas make a very satisfying and nutritious porridge! The cooking process is very simple, the dish is completely inexpensive. The result is quite decent!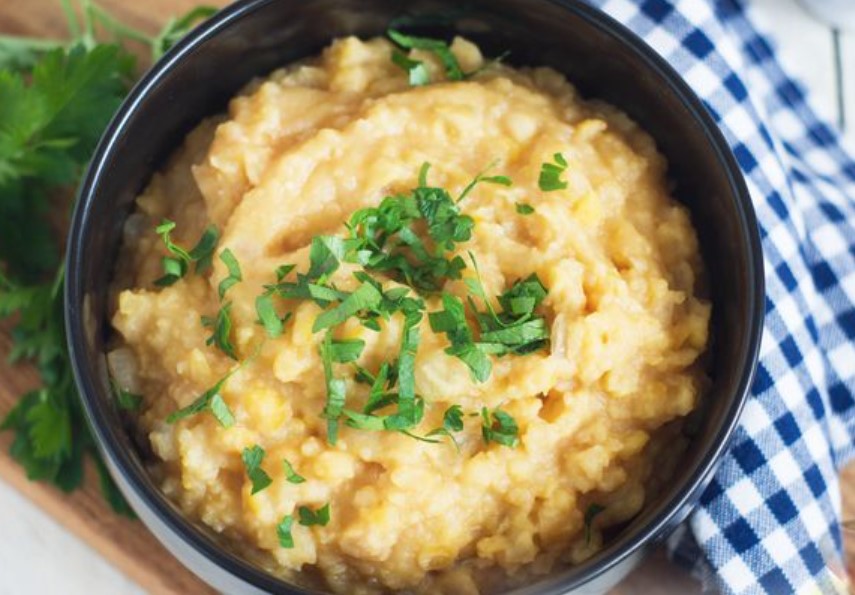 Cook: 2 hours
Servings: 2
Ingredients
Dry peas (split or whole) – 200 g
Onions – 125 g
Salt – 1/2 teaspoon
Ground black pepper – on the tip of a knife
Vegetable oil (for frying) – 2 tablespoon
Butter (optional) – 25 g
For filling (optional):
Fresh parsley – 10 g (3-4 sprigs)
Directions:
Soak the peas in clean water for about 30-60 minutes. This will help the peas to absorb moisture, making them softer and significantly shortening the cooking time.

Then rinse the peas under running water and place in a heavy-bottomed saucepan.
Pour in about 600 ml of water (the approximate proportion of peas and water is 1: 3). Put on heat and bring to a boil. Then reduce heat to low, remove the foam and cook the peas for about 60 minutes, until soft. Well-cooked peas are easily kneaded with a tablespoon.
Peel the onion and cut into small cubes. Heat vegetable oil in a frying pan, add chopped onions, and, stirring occasionally, fry over medium heat for about 3-4 minutes, until soft and translucent.
Add the sautéed onions to the cooked peas. Season with salt and pepper. Add butter if desired. Stir.

Hearty pea porridge with fried onions is ready. Serve it with finely chopped parsley on top of each serving.
Enjoy your meal!
Also Like
Comments for "Pea Porridge with Fried Onions"