Polka Dot Cupcakes
by Editorial Staff
Homemade cupcakes (muffins) with polka dots will appeal to both adults, who will appreciate the ease of preparation and the availability of ingredients, and children, who are primarily interested in the funny appearance of these wonderful cupcakes!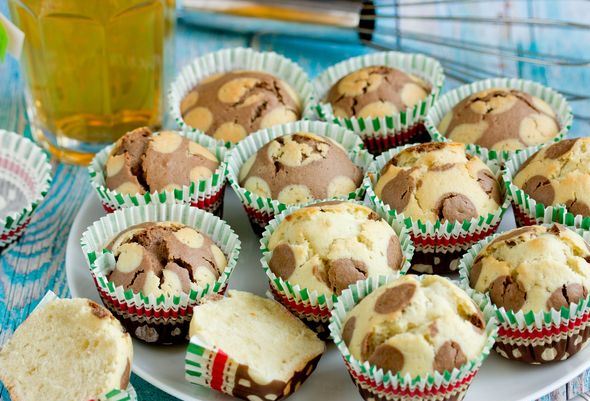 Cook: 50 mins
Servings: 12
Ingredients
Eggs – 2 pcs.
Milk – 230 ml
Sunflower oil – 4 tbsp
Flour – 280 g
Sugar – 140 g
Cocoa powder – 1.5 tbsp
Vanillin – 1 pinch
Baking powder – 2 teaspoon
Directions
Combine eggs, sugar and vanillin in a bowl.
Beat eggs, sugar and vanilla with a mixer for 3 minutes until a fluffy light mass is obtained. Pour in milk and sunflower oil and mix everything well.
Mix flour with baking powder and sift into liquid dough base.
Stir the muffin dough.
Divide the dough into 2 equal portions. Stir in cocoa powder into one part of the dough.

Set aside 1.5 tbsp of dark and white dough in separate bags.
Divide the rest of the dough into muffin tins. I got 6 dark and 6 light cupcakes.
Now cut off small corners on the bags of dough and place dark drops on light-colored muffins, and drops of light dough on cocoa muffins.
Put the muffins to bake in an oven preheated to 200 degrees for 25 minutes.
The polka dot cupcakes are ready.
Let the muffin cakes cool and you can serve homemade cakes to the table.
Also Like
Comments for "Polka Dot Cupcakes"