Rainbow Meringue
by Editorial Staff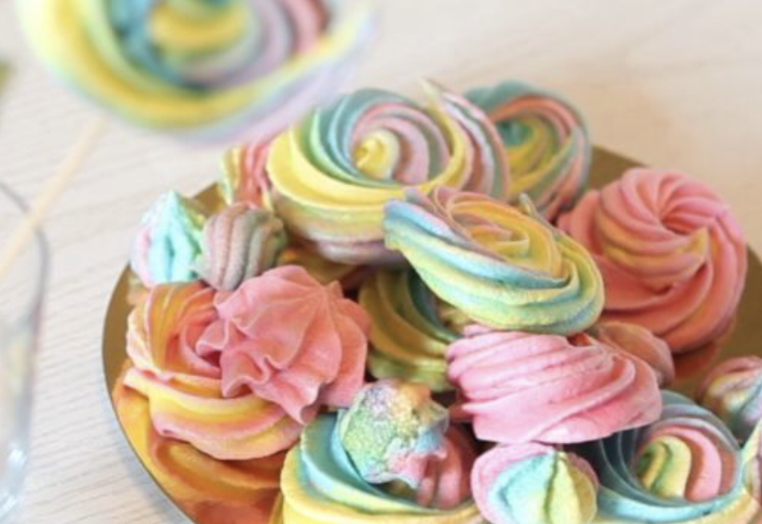 A beautiful rainbow dessert is meringue. To make the meringue, we only need 2 ingredients – egg whites and sugar. To get multi-colored meringue cakes, food coloring is required.
Ingredients
Egg whites – 100 g (3 eggs)
Sugar (powdered sugar) – 150-200 g
Food colors (blue, red, yellow)
Directions
Prepare egg whites and sugar and food coloring for the rainbow meringue.
Also prepare a pastry bag with the desired attachment and a mat or paper where we will place our meringues.

Separate the egg yolks from the whites.
Usually, from 3 eggs of category C1, 100-105 grams of protein comes out. This amount requires 150-200 g of sugar. The more sugar, the texture and the meringues themselves will be more stable, but I made the meringue from 100 g of sugar and 100 g of protein, it turned out also great.
If you are making meringues with a hand mixer, then I advise you to use powdered sugar instead of sugar, so that the sugar does not exactly creak on your teeth.
When the proteins are fluffed up into a lush foam, you can slowly add sugar in a spoonful.
Beat the whites with sugar until they reach steady peaks – this is when the mass is so stable that it does not drain a milli, no matter how you tilt the bowl.

When everything is whipped, it remains to decorate the meringue. You can paint only a bag with gel dyes, but you can do this in this way: divide the protein mass into 3 parts, mix each part with its own color and then fill a pastry bag, combining meringues of all colors in it. As you know, there are 3 colors that, when mixed, give all the colors of the rainbow – blue, red and yellow. We use them.
These are the rainbow meringues (meringues) we get, and if you need to decorate a children's party, try to insert skewers into them – you will get a beautiful table decorations.

The most important thing remains – put the meringue to dry in the oven at a temperature not exceeding 100 degrees. They dry for 1.5-2 hours (depending on the size of the cakes) and do not redden.
After that, you need to let the meringues cool down – you can also take them off the mat in the same place, in the turned off oven, and already cooled down. They are removed very easily.
Enjoy your meal!
Also Like
Comments for "Rainbow Meringue"