Uzbek Roast with Chickpeas and Dried Apricots (in a Pot)
by Editorial Staff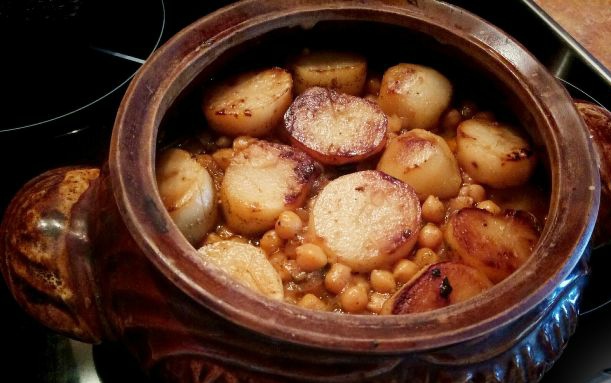 Eastern cuisine is always full of enchanting flavors. Try the roast with chickpeas and dried apricots, you will definitely like it. This roast pork with potatoes, of course, is not an authentic kovurma, but a very tasty dish based on Uzbek cuisine.
Ingredients
Pork – 350 g
Potatoes – 8 pcs.
Chickpeas dry – 0.75 cups
Dried apricots – 80 g
Small onions – 4 pcs.
Tomato paste or ketchup – 3 tbsp
Garlic – 2 teeth
Butter – 1.5 tbsp
Vegetable oil – for frying
Water – 2.5 cups
*
Spices (to taste):
Basil dry
Dry mint
Ground coriander
Ground black pepper
Salt
Directions
Soak chickpeas in water for 4 hours in advance.
For cooking fried potatoes, peel and cut into thick slices. Fry in vegetable oil over high heat until golden brown, 1 minute on each side.
Cut the meat into medium-sized pieces and fry until half cooked. Peel the onion and cut it into half rings. Fry half of the onion with tomato paste. We boil water in a saucepan. Throw in the previously soaked chickpeas and fried onions with tomato. Cook for 10 minutes. Salt. Chop the garlic. We wash dried apricots and cut into 4 parts. Grind all spices to a powder state.
We collect the pot. We spread it in layers: butter, fresh onions, half of the spices and salt, meat, garlic, the remaining spices, dried apricots, half of the potatoes, chickpeas, onion from the broth, the remaining potatoes, the broth in which the chickpeas were cooked. We cover the pot with foil, make several punctures with a knife so that steam comes out. We bake meat with potatoes in a pot in the oven for 1.5 hours at 180 degrees.
Roast with chickpeas and dried apricots is ready.
Enjoy your meal!
Also Like
Comments for "Uzbek Roast with Chickpeas and Dried Apricots (in a Pot)"