Brussels Sprouts with Mushrooms and Nuts
by Editorial Staff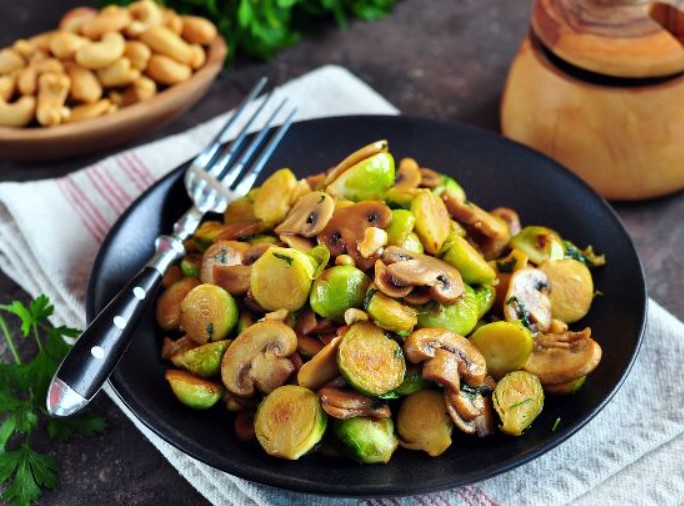 Vegetable recipe – Brussels sprouts with mushrooms and nuts. The combination of ingredients is delicious and if you love Brussels sprouts, be sure to use this recipe.
Cook: 30 mins
Servings: 2
Ingredients
Brussels sprouts – 500 g
Champignons – 300 g
Nuts (any, your favorite) – 30 g
Olive oil – 3 tbsp
Soy sauce – 2-3 tbsp
Liquid honey – 2 teaspoon.
Lemon juice – 2-3 tbsp
Parsley – a few twigs
Ground black pepper – to taste
Salt (optional) – to taste
Directions
Prepare foods for cooking Brussels sprouts with mushrooms and nuts. Tear off the top leaves of the cabbage, cut off the leg, clean the mushrooms from the remnants of the compost.

Cut the cabbage in two.
Lightly fry the cabbage in a little olive oil.
Cut the mushrooms into thin slices.
Add mushrooms to cabbage, turn down the heat. When the mushrooms start juicing, simmer over low heat for 5 minutes.
Prepare food for dressing. In a convenient bowl, combine runny honey, soy sauce, lemon juice, and ground black pepper. (Add a little soy sauce, as it is more or less salty. The main thing is not to oversalt the dish.)
Add the dressing to the pan, cook for another 5 minutes, no longer.

Chop the nuts lightly. (You can take any nuts for this dish. You can take the most budgetary peanuts. The only thing you need to take into account is whether there is any allergy to peanuts or nuts in general among the family or guests who will eat this dish.)
Add the nuts to the rest of the ingredients and roast everything together for 1 minute. Taste the dish, perhaps adding salt, pepper or lemon juice.
Chop fresh herbs, add to skillet, stir and let sit for a few minutes before serving.
Serve Brussels sprouts with mushrooms and nuts as an appetizer, side dish, or as a stand-alone dish. By the way, nuts can be fried and served separately Bon appetit!
Also Like
Comments for "Brussels Sprouts with Mushrooms and Nuts"