Roasted Brussels Sprouts with Nuts and Sesame Seeds
by Editorial Staff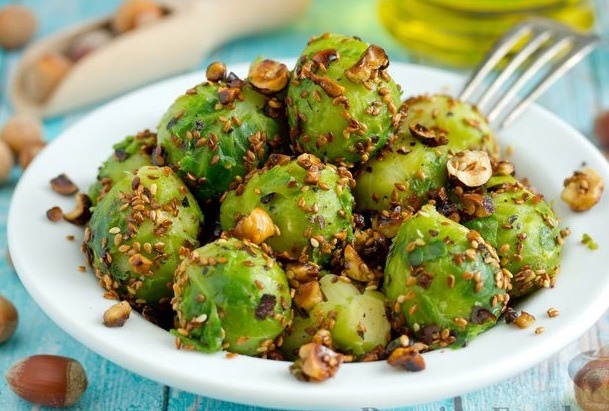 Small green heads of Brussels sprouts, fried with hazelnuts and sesame seeds, are an excellent side dish for meat and fish dishes. Despite the fact that Brussels sprouts are very healthy, not everyone loves it. If you are such a fussy, be sure to take on board this elementary and very quick recipe for Brussels sprouts with nuts and sesame seeds. Roasted Brussels sprouts are delicious, colorful, and original!
Ingredients
Frozen Brussels sprouts (or fresh) – 350 g
Peeled hazelnuts – 35 g
White sesame – 15 g
Sunflower oil – 3 tbsp
Salt to taste
Directions
Prepare all the ingredients you need before preparing Brussels sprouts with nuts and sesame seeds.

Pour 750 ml of water into a saucepan, bring it to a boil over high heat. Add 1 teaspoonful of salt. Dip the Brussels sprouts into salted boiling water. Bring the water to a boil again and boil the cabbage. Boil frozen cabbage for about 3 minutes, fresh cabbage for about 7.
Drain the boiled Brussels sprouts.
Grind the hazelnuts into large crumbs.
Heat sunflower oil in a frying pan, put hazelnuts and sesame seeds in it.
Cook the nuts and sesame seeds for about a minute, stirring occasionally, until caramelized and rich in nutty flavor.
Put the Brussels sprouts in a skillet with nuts and sesame seeds, sprinkle with 1 pinch of salt.
Fry the cabbage for another minute, stirring and shaking the pan. Turn off the heat, cover the skillet with a lid, and leave the fried cabbage with nuts and sesame seeds for 5 minutes.
Transfer the cooked Brussels sprouts along with the nuts and sesame seeds to a large plate or immediately divide into portions.

Brussels sprouts with nuts and sesame seeds are ready to serve.
Enjoy your meal!
Also Like
Comments for "Roasted Brussels Sprouts with Nuts and Sesame Seeds"