Cake "Marble"
by Editorial Staff
A perfect finish to almost any holiday feast is a cake. And most people don't buy it off the shelf. Of course, because it is almost always difficult and long to cook. But try it anyway!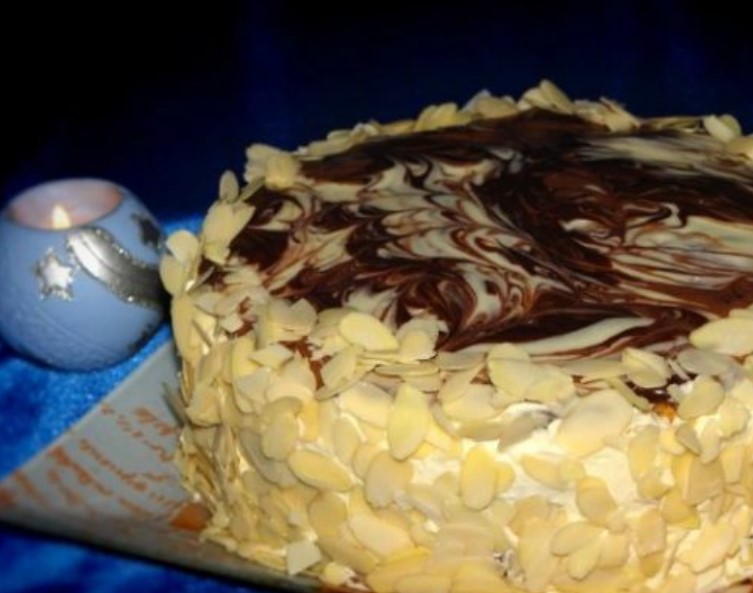 Cook: 3 hour
Servings: 8
Ingredients
Egg – 6 Pieces
Powdered sugar – 280 grams (200g – in dough, 80g – in butter cream)
Flour – 225 Grams
Cream 33% – 180 Milliliters (60ml – for butter cream, 120ml – for decoration)
White chocolate – 230 grams (150g – for butter cream, 80g – for decoration)
Butter – 220 Grams (20g – for lubricating the mold, 200g – for butter cream)
Milk chocolate – 80 Grams
Dark chocolate – 80 Grams
Almond Flakes – 200 Grams
Hot water – 100 Milliliters
Sugar – 2 Tbsp. spoons
Lemon juice – 1 Tbsp. the spoon
Black tea – 1 Piece (bag)
Directions
First, make a dough. Beat eggs with a powdered sugar mixer. Then add the sifted flour to the mass. Knead the dough. Pour it into an oiled mold. Bake the crust for 25 minutes at 180 degrees. Cool it down.
Prepare the cream. Melt the white chocolate with cream in a water bath. Cool the mass, and then whisk it.
Then whisk in soft butter and powdered sugar, about 15 minutes. Add the chocolate mass to the creamy one. Mix the cream well.
For impregnation, brew a strong tea with lemon juice and sugar. Cut the cake into 3 pieces. Soak each one with tea.
Next, grease the cakes with cream, laying them on top of each other. Leave the cream for decoration as well.
Now make the cake decorations. First, melt the milk chocolate with 1/3 of the cream. Second, melt the white chocolate with 1/3 of the cream. Third: melt the dark chocolate with 1/3 of the cream. Beat each mass.
Spread the chocolate masses randomly over the top of the cake. Make a "marbled effect" with a toothpick.

Grease the sides of the cake with the remaining cream, decorate them with almonds (petals).
Leave the cake in the refrigerator for a couple of hours.
Enjoy your tea!
Also Like
Comments for "Cake "Marble""