Cookies "Moscow Bread" with Raisins
by Editorial Staff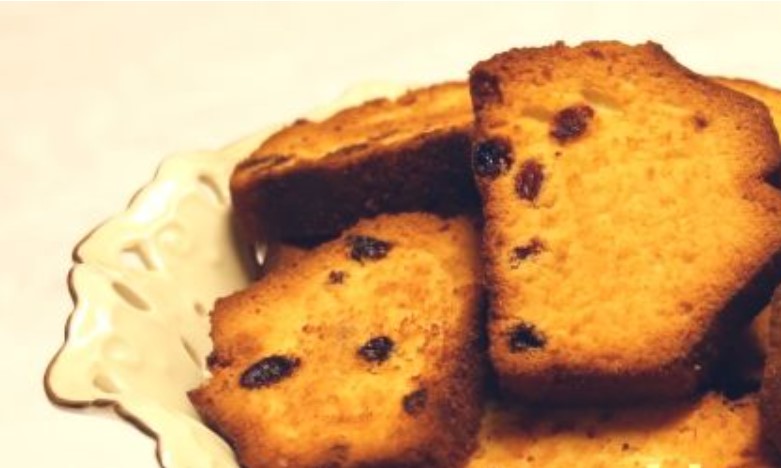 Cookies "Moscow bread", prepared according to this recipe, turns out to be very tasty. Croutons with raisins are easy to prepare, and the result will undoubtedly please.
Ingredients
Flour – 160 g
Butter – 100 g
Eggs – 3 pcs.
Powdered sugar – 150 g
Raisins – 50 g
Vanilla sugar – 1 teaspoon
Directions
We prepare products for Moscow bread.
Put 100 grams of soft butter, 150 grams of powdered sugar, 1 teaspoon of vanilla sugar in a mixer bowl. Beat at high speed until a fluffy white mass is obtained.
Without stopping whipping, add three eggs to the butter and sugar mixture, one at a time. Beat at high speed for 10 minutes. In the process of beating, remove the egg-oil mixture from the walls of the mixer.
At low speed or by hand, stir in 50 grams of raisins and 160 grams of flour into the mixture.
Put the finished dough in a 28 x 10 centimeters baking sheet, lined with baking paper greased with butter.
We bake in a preheated oven at 180-200 degrees Celsius for about 30 minutes. We check readiness, as always, with a wooden stick.
Take the finished cake out of the oven, put it on a wooden board and leave it for several hours to rest.
Cut the well-rested cake into slices 1-1.5 centimeters thick, put it on a baking sheet and send it to the oven preheated to 180 degrees Celsius for another 15 minutes.

Remove the finished croutons with raisins from the oven and let cool.
We serve delicious nostalgic cookies "Moscow bread" for tea or coffee.
Bon appetit!
Also Like
Comments for "Cookies "Moscow Bread" with Raisins"