Homemade Burgers (in 15 minutes)
by Editorial Staff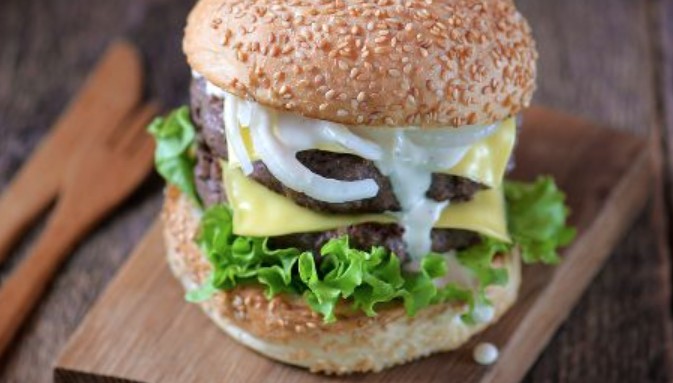 Making delicious burgers is easy and simple at home, and even men can handle it.
Cook: 15 min
Ingredients
Hamburger buns – 3 pcs.
Beef – 600 g
Lard – 100 g
Toast cheese – 3-6 slices
Bulb onions – 0.5 pcs.
Leaf salad – to taste
Mayonnaise – 2 tbsp
Sour cream – 1 tbsp
Olive oil – 1 tbsp
Worcestershire sauce – 1 teaspoon
White wine vinegar – 1 teaspoon
Sea salt – to taste
Ground black pepper – to taste
Directions
Prepare the food you need to make burgers at home. The beef must be of very good quality and a proven manufacturer. The meat and fat in minced meat should be in a percentage ratio of 70 to 30, but we cook for ourselves, so you can take less fat.
Twist the beef and lard in a coarse grinder. Beat the minced meat slightly, do not salt.
Cut the buns in half. With the inside, place them in a hot skillet and brown a little.
Using the serving ring, make the patties the same size – the same dia as the hamburger buns.
Fry the patties in a lightly oiled skillet, 2-3 minutes on each side.
For the sauce, combine mayonnaise, sour cream, and Worcestershire sauce and season with salt and pepper to taste. You can add a little mustard to the sauce. Cut the onion into rings or half rings, sprinkle with white wine vinegar, and marinate for a couple of minutes.
We just have to collect homemade burgers. Grease the bottom of the bun with sauce, put any lettuce on it, on the salad – a cutlet (or two). Now the cutlet needs to be salted and pepper, cover it with a slice of toast cheese. Top with a little pickled onion and a little more sauce.

Cover with the second half of the bun on top, fasten with a wooden or bamboo skewer. By the way, if you wish, you can add a circle of fresh tomato or a slice of pickled cucumber to the hamburgers, it will also be tasty and juicy with them.

Serve homemade burgers immediately, as long as the bun is warm and crispy inside and the cutlets are hot.
Bon Appetit!
Also Like
Comments for "Homemade Burgers (in 15 minutes)"