Parisian Apple Pie
by Editorial Staff
The Parisian apple pie is a delicious dessert that you want to try as soon as possible. A very simple and affordable recipe. Take note!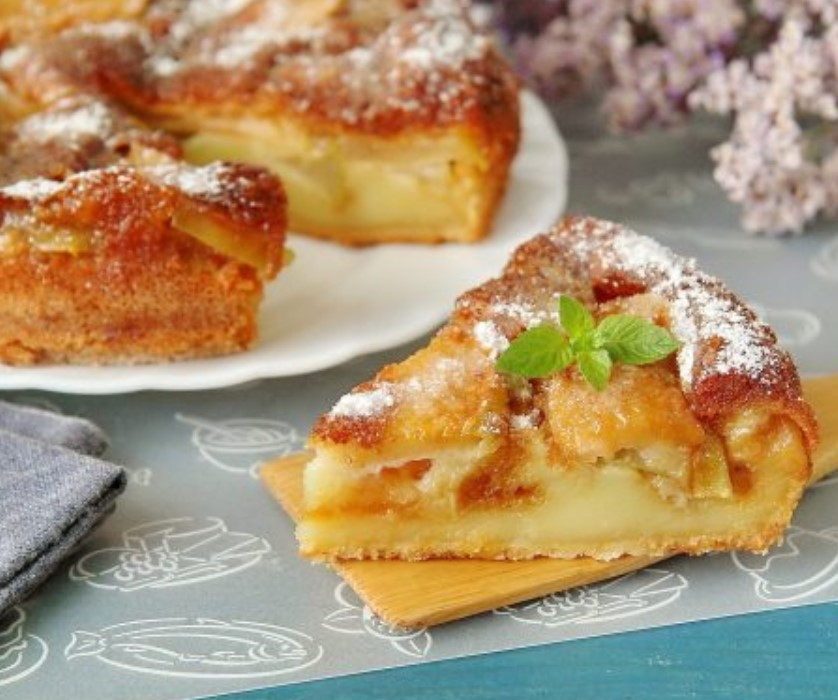 Cook: 1 hour
Servings: 8-10
Ingredients
Egg – 3 Pieces
Flour – 80 Grams
Milk – 100 Grams
Vegetable oil – 15 Grams
Baking powder for dough – 1 teaspoon
Apples – 300 Grams
Sugar – 100 grams (in dough)
Butter – 25 Grams (per filling)
Sugar – 30 Grams (in filling)
Maple syrup – 2-3 tbsp
Vanillin – 1 Gram
Directions
Prepare all ingredients.

Beat eggs with sugar until foamy.
Add milk and vegetable oil.
Add flour, baking powder and vanillin.
Stir everything until smooth.
Lubricate the mold with oil. Sprinkle the bottom and sides with flour or semolina. If the form is detachable, then it will be more convenient to cover it with parchment. Arrange the sliced ​​apples at random.
Pour the dough over the apples. Bake at 180 degrees for about 40 minutes. Readiness can be checked with a wooden skewer.
Combine sugar, melted butter, and maple syrup for pouring.
Get out the cake.

Pour the cake evenly over the top. Bake for another 10-15 minutes.
Allow the finished apple pie to cool slightly in the tin, then remove, garnish with powdered sugar if desired and serve.
Bon Appetit!
Also Like
Comments for "Parisian Apple Pie"