Pizza on a Thick Dough
by Editorial Staff
There is a thin pizza, and there is also a fluffy one. I just wanted to pamper myself and forget about the diet with the latter. I want to share with you a simple recipe for pizza on a thick dough – very tasty and satisfying!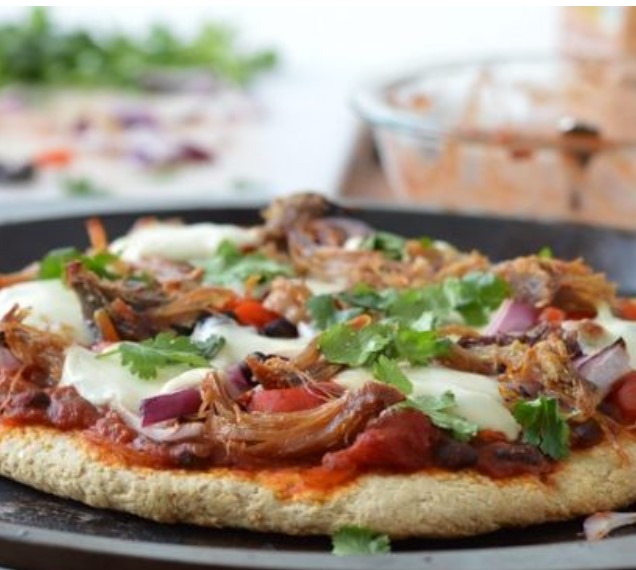 Cook: 1 hour 30 mins
Servings: 5-6
Ingredients
Warm water – 1 Glass
Yeast bag – 1 Piece
Sugar – 1 Pinch
Salt – 1 Teaspoon
Olive oil – 2-3 tbsp
Wheat flour – 1 Glass
Whole grain flour – 1 Cup
Corn flour – 0.5 cups
Tomato sauce – 2 Tbsp. spoons
Finished Beans – 0.5 Cups
Red pepper – 1 Piece
Red onion – 0.5 Pieces
Mozzarella – 150 Grams
Spices, herbs – To taste
Directions
Dissolve the yeast first in warm water. Sift all the flour into a deep bowl, add salt and sugar, make a depression and pour out the diluted yeast – knead the dough.
Add vegetable oil and knead the dough well for 10 minutes.
Sprinkle a bowl with flour and lay out the dough, put in a warm place, let it come up within an hour.
When the dough comes up, knead and roll out on a floured surface. Brush a baking dish with vegetable oil and lightly sprinkle with corn flour. Line the dough base onto the mold.
Heat oven to 200 ° C. Mix salsa, tomato paste and beans. Apply evenly to pizza.

Top with stewed red bell peppers, onions, mozzarella pieces. Place in the oven for 10-15 minutes until tender.
The pizza has come up and the dough has risen – let the pizza cool slightly and you can cut into portions.
The thick pizza is ready!
Bon Appetit!
Also Like
Comments for "Pizza on a Thick Dough"