Potatoes Stewed with Seafood
by Editorial Staff
Once again I bought a set of seafood (they say very healthy) and once again wondered how best to cook them. In one of my cookbooks, I found such a dish of seafood and young potatoes, cooked it, it turned out very tasty!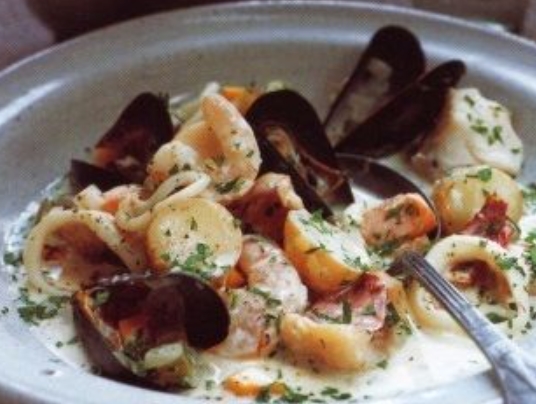 Servings:4
Ingredients
Salmon fillet – 500 g
Frozen seafood mix – 500 g
Olive oil – 15 g (1 tablespoon. L.)
Butter – 25 g (2 tablespoon. L.)
Medium-sized onions (finely chopped) – 1 pc.
Carrots (finely chopped) – 1 pc.
Celery stalk (finely chopped) – 3 pcs.
Flour – 30 g (2 tablespoon. L.)
Fish broth – 600 g (2 1/2 cups)
Dry white wine – 300 g (1 1/4 cups)
Young potatoes (cut into halves) – 350 g
Unsweetened fatty cream – 150 g (2/3 cup)
Spring herbs (chopped) – 2 tbsp
Salt and black pepper to taste
Directions
If the seafood mixture is frozen, thaw it. Wash the salmon fillet and dry on a paper towel. Remove bones from the pulp and remove the skin. Cut the fillet into large pieces.
Heat the olive oil in a large skillet, then melt the butter in it, add the onions, carrots, and celery, cook over medium heat, stirring occasionally, until slightly soft. Then dust the vegetables with flour and cook for about 1 minute.
Pour the contents of the pan with broth and wine, stirring occasionally, bring to a boil.
Put potatoes in a pan, bring to a boil, reduce heat, cover the pan with a lid and simmer for about 10-15 minutes, until the potatoes are half cooked. Then put the fish and seafood mixture into a frying pan, mix.
Add the cream to the pan, bring to a boil over low heat and simmer for a couple of minutes (if shellfish are present in the seafood mixture, they should all open). Season the dish with salt and pepper to taste, add herbs and mix well.
Serve seafood potatoes immediately on the platter.
Also Like
Comments for "Potatoes Stewed with Seafood"