Stewed Seafood
by Editorial Staff
Mixed seafood recipes are popular for their ease of preparation, health benefits, and great taste. We offer to cook seafood stewed with vegetables – this is an easy and healthy dish. You can serve stewed seafood with a side dish, or you can yourself.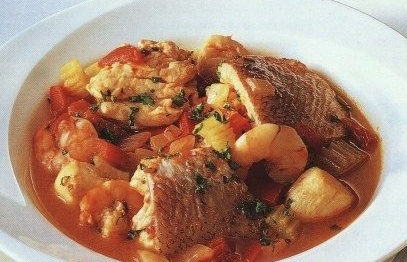 Ingredients
Large shrimps – 600 g
Snapper or cod (fillet) – 750 g
Scallop – 500 g
Medium lime – 1 pc.
Ground coriander – 1 teaspoon
Olive or other vegetable oil – 3 tbsp
Large onions (chopped) – 2 pcs.
Medium carrots (diced) – 2 pcs.
Red pepper (diced) – 1 pc.
Canned tomatoes – 1 kg
Chicken broth – 1 cube
Dry white wine – 1/2 cup
Sugar – 1 teaspoon
Salt – 1 teaspoon
Paprika – 1/4 teaspoon
Chopped parsley – 2 tbsp
Directions
Remove the shell and longitudinal vein from the shrimp.
Cut the fish into 7.5×5 cm pieces.
Rinse the scallops well under running water. Remove hard muscle. Squeeze the lime juice into a large bowl. Mix with coriander. Put shrimps, fish and scallops in the juice. Stir well, set aside.
Heat oil in a large cast iron saucepan over high heat. Add chopped vegetables and cook for about 25 minutes, stirring occasionally.
Add the tomatoes and juice, the next 5 ingredients, and 3/4 cup water. Break the tomatoes with a spoon. Bring to a boil over high heat. Reduce heat to medium and simmer for 5 minutes. Combine seafood with tomato mixture and cook over medium heat for 5-10 minutes.
Serve seafood stew with parsley.
Also Like
Comments for "Stewed Seafood"