Stew with Seafood
by Editorial Staff
Recipe for stew with seafood and potato gnocchi. Be sure to try this wonderful dish, which, by the way, is not too demanding on the size and condition of seafood.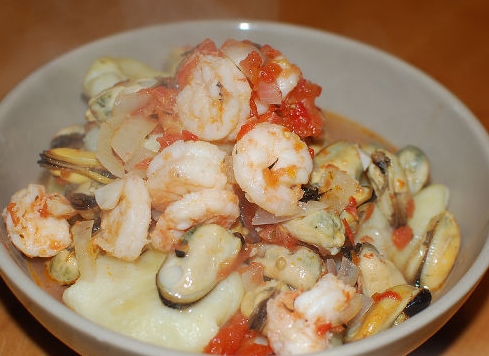 Cook: 1 hour
Ingredients
Potatoes – 3-4 pcs.
Eggs – 2 pcs.
Flour – about 300 g
Bulb onions – 1 pc.
Garlic – 3-4 teeth
Tomatoes – 3 pcs.
Seafood to taste
Salt
Butter
Olive oil
basil
thyme
Directions
And everything is done really very quickly. Let's start with the gnocchi. To do this, I peeled and boiled a few Emerald Dawn potatoes in salted water.

And then he ground them in mashed potatoes with improvised means. With the addition of butter, milk and salt to taste. Well, mashed potatoes don't have to be taught to anyone. As one friend of mine says, wrinkled potatoes are wrinkled potatoes.
And then I added a couple of eggs to the finished puree and began to knead the dough from it, gradually adding flour. Frankly, I thought at first that the flour will go much less. But there was no turning back, and therefore I kneaded to the bitter end. And after kneading, he separated small pieces from the dough, rolled them into bundles and cut into slices. These were the gnocchi. On the keel, it is customary to make one incision along the entire length, like a tablet. I must admit right away that my gnocchi turned out to be too large, it should be smaller. But Belarusian roots sometimes make themselves felt. If you look in your hands, you put it in.
Then I boiled the gnocchi in salted boiling water. There are options here. You can boil the gnocchi until half cooked and then add it to the stew to add flavor. And you can like me – boil it completely and add to the plate as needed. Then the stew has a chance to live for several days, and the gnocchi will not turn into giants that have absorbed all the liquid. In general, everything is like with pasta.
Here they are – handsome. Even so, start eating.
Now the stew itself. I chopped a little bit of ordinary onion, chopped the garlic, and fried it all in olive oil for a short time.
Then he rubbed several large tomatoes into a cauldron (and I cooked in it), began to simmer over low heat. Rubbed – this means chopped through a grater, throwing out the peel.
I also added dry basil and thyme there, slightly salted, added black pepper. It would be necessary to add fish broth, but I topped up with water from thawed seafood and tap water. And then cooked a little until smooth.
And then the sea reptiles went. They can be anything here – it is only important to know who is cooking how much. First, the peeled shrimp went to me.
A few minutes later, mussels are behind them. Then just bring to a boil and turn off so that the mussels do not become rubbery. I must confess that at first I wanted to buy scallops for this dish, but somehow the toad did not give it in the end. Maybe in vain, but even from the shrimp and mussels, the broth acquired such a taste that it is simply impossible to retell. You can still send a piece of butter there, but not necessarily.
The presentation is more than obvious. I poured giant gnocchi into a plate.
Yes, and poured them steaming stew.

And nothing else is needed. Because the taste and smell completely tears the tower down, and it is simply impossible to stop.
Also Like
Comments for "Stew with Seafood"