Rice with Seafood and Vegetables
by Editorial Staff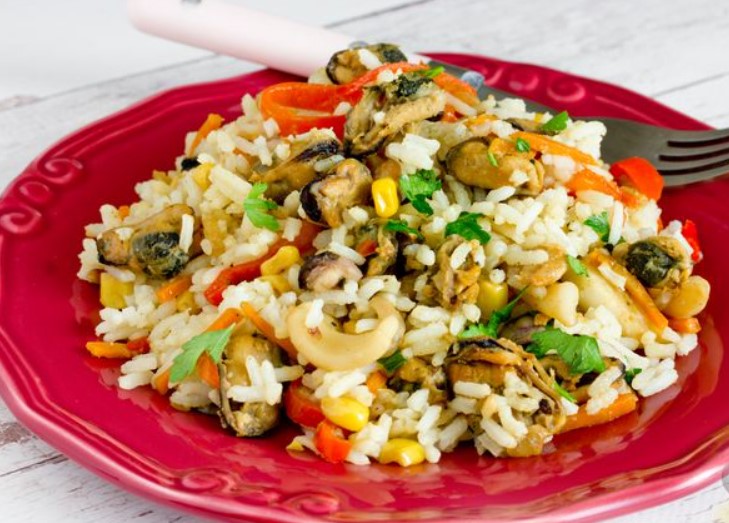 Rice with seafood and vegetables is an incomparable dish that can conquer even the discerning gourmet. Seafood for this dish can be mixed as you wish, or you can take a ready-made seafood cocktail. Vegetables add not only taste and aroma to seafood rice, but also make the dish bright and colorful. Be sure to cook!
Cook: 30 min
Servings: 2
Ingredients
Rice (indicated raw weight of rice) – 100 g
Seafood (sea cocktail) – 200 g
Bulb onions – 1 pc.
Garlic – 1 clove
Carrots – 1 pc.
Sweet pepper – 1 pc.
Canned corn – 3 tbsp
Sunflower oil – 40 ml
Greens to taste
Salt to taste
Ground black pepper – to taste
Directions
Prepare all the ingredients you need to make seafood rice.

Pour water into a saucepan, bring it to a boil, salt and add rice. Boil the rice until tender, depending on the variety (on average, about 15 minutes after boiling the water again).
Throw the boiled rice in a colander and let the water drain. Transfer the cooked rice to a bowl and make the vegetables.
Wash the bell peppers, remove the inner partitions and seeds, cut the pepper pulp into strips. Peel the onion, cut into small cubes.
Peel the carrots, cut into strips.
Peel and chop the garlic.
Heat the sunflower oil in a skillet. Fry the onion and garlic in this oil for a couple of minutes.
Add carrots and fry for a couple more minutes.
Drain the liquid from the canned corn and transfer the kernels, along with the pepper, to the pan with the onions, garlic and carrots.
Continue to fry the vegetables until the pepper is soft.
Then add seafood to the vegetables (I have pieces of squid, mussels, shrimp; if the seafood is frozen, defrost them first).
Season with salt and pepper and sauté for 5-7 minutes over medium heat, stirring occasionally, until the seafood is cooked through.

Transfer the cooked rice to the pan.
Stir to distribute all the ingredients evenly.
Sprinkle chopped herbs on the finished dish.
Rice with seafood and vegetables is ready. Serve immediately after cooking.

Enjoy your meal!
Also Like
Comments for "Rice with Seafood and Vegetables"