Azu (Traditional Tatar Dish)
by Editorial Staff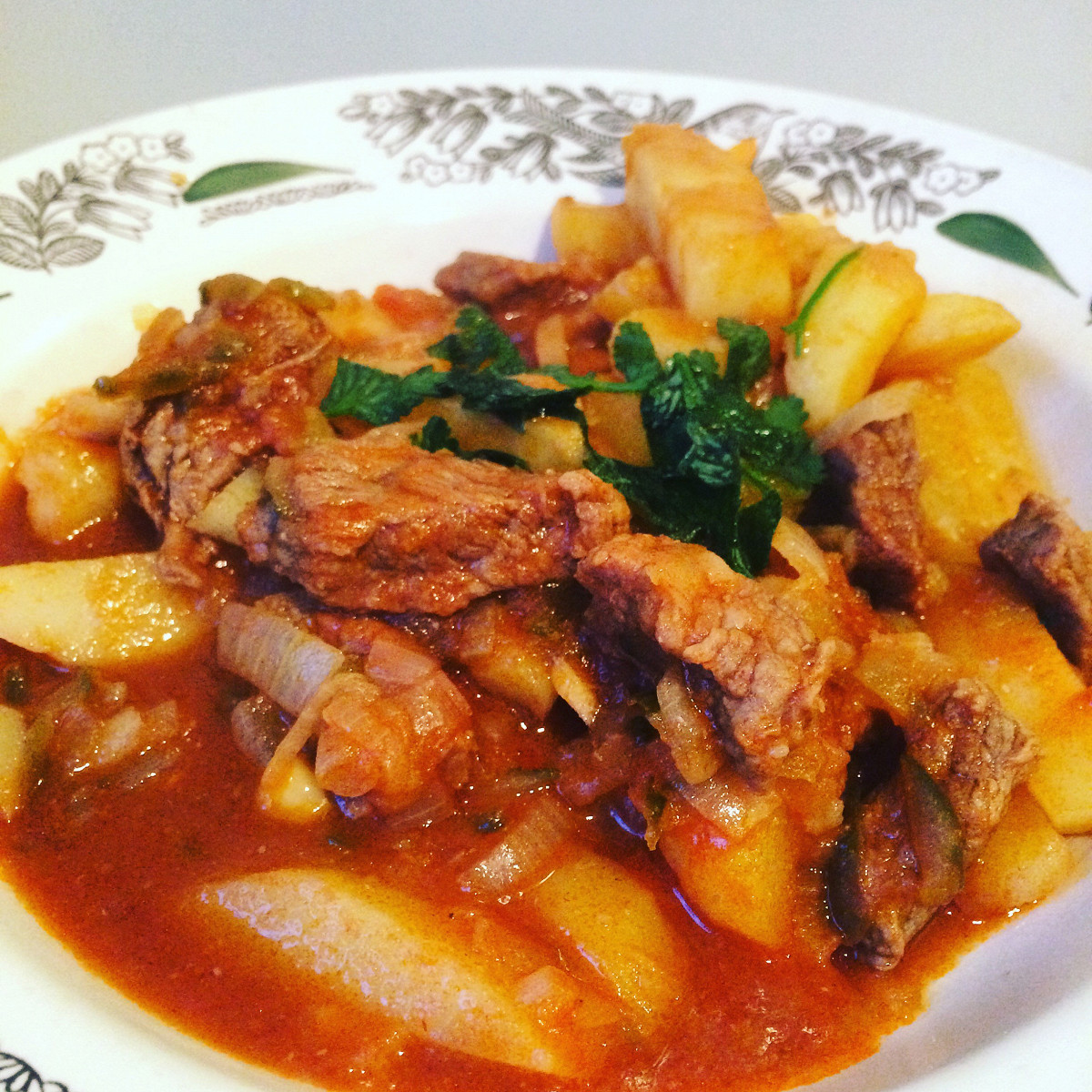 Azu is a traditional Tatar dish. Azu is prepared in Tatar style, usually from fried pieces of young beef, lamb, or horse meat. The indispensable components of the basics in Tatar are young meat, stewed tomatoes, fried potatoes, and pickled cucumbers.
Ingredients
Veal – 500-700 g
Red bell peppers – 3-4 pcs.
Potatoes – 3-4 pcs.
Tomato – 1 pc.
Onions – 1 pc.
Pickled cucumbers – 2 pcs.
Flour – 2-3 tbsp
Tomato puree – 1 tbsp
Garlic – 1 clove
Sugar – 1/2 teaspoon
Salt to taste
Pepper to taste
Parsley to taste
Vegetable oil to taste
Directions
The meat must be freed from films and cut into small cubes. Now sprinkle the meat with salt and pepper and fry in hot oil until lightly golden. Pour the meat with 2 glasses of water and put a whole onion there. The fried meat should be simmered under the lid for about 30 minutes, then remove the onion.
Sweet peppers must be peeled and cut into strips. We send it to stew together with meat for another 10 minutes.
The tomato needs to be scalded with boiling water and skinned. Finely chop the tomato and simmer together with meat and pepper under the lid for 5-10 minutes. We also send finely chopped garlic there.
Flour should be fried until the light cream color and cooled. Dilute the fried flour in 150 ml of chilled boiled water, add some salt, add sugar, and tomato puree. Add the resulting broth to meat and vegetables. Stir the gravy well until smooth. We simmer the basics for another 5 minutes.
Cut the pickled cucumbers into slices, send them to the gravy, cover with a lid, and remove the basics from the heat.
Azu must be garnished with fried potatoes and sprinkled with chopped herbs.
Also Like
Comments for "Azu (Traditional Tatar Dish)"