Chicken in a Yoghurt Marinade
by Editorial Staff
I love to bake the chicken in the oven. I wanted something new. Marinate the chicken in yoghurt, garlic, ginger and spices. Yoghurt can be taken by your favourite, even sweet. So you can marinate chicken skewers.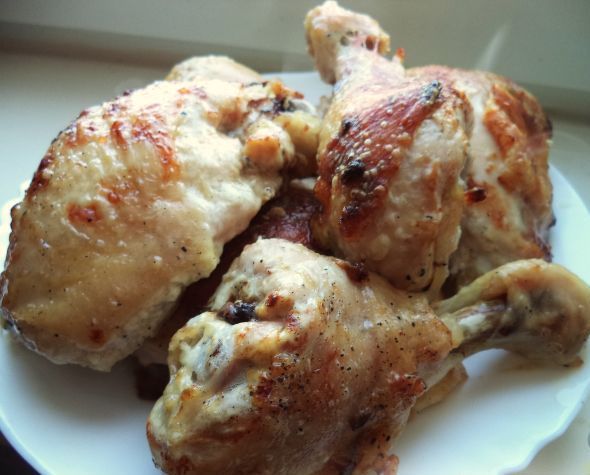 Servings: 4
Cook: 3 hours
Ingredients
Chicken legs – 3 pcs.
Yoghurt – 200 ml
Garlic – 2 cloves
Ginger root – 2 cm
The mixture of spices (e.g. cumin, coriander, curry, pepper) – 1 teaspoon (to taste)
Salt to taste
Olive or sunflower oil – 2 tbsp
Directions
Wash the legs, dry, cut into 2-3 parts.

Place the chicken pieces into a bowl.
Make a marinade. To do this, peel the garlic and ginger root. Grind. Add garlic, ginger, salt, pepper, spices and vegetable oil to yoghurt. Beat until smooth (convenient in a blender).
Brush the chicken pieces thoroughly with the yoghurt marinade. Cover with a lid or cling film, put the chicken in yoghurt in the refrigerator for 2-8 hours.
Turn on the oven, preheat to 190 ° C. Grease a baking sheet with vegetable oil. Place the chicken in yoghurt on a baking sheet.
Place the baking sheet with marinated chicken in the oven on the middle shelf.

Bake the chicken in the oven until tender (about 50 minutes). You can check the readiness with a fork or a toothpick – the juice that flows out should be transparent.
The baked chicken in yoghurt marinade is ready. Serve with vegetables or your favourite side dish.
Bon Appetit!
Also Like
Comments for "Chicken in a Yoghurt Marinade"