Coffee Roll with Baileys Liqueur
by Editorial Staff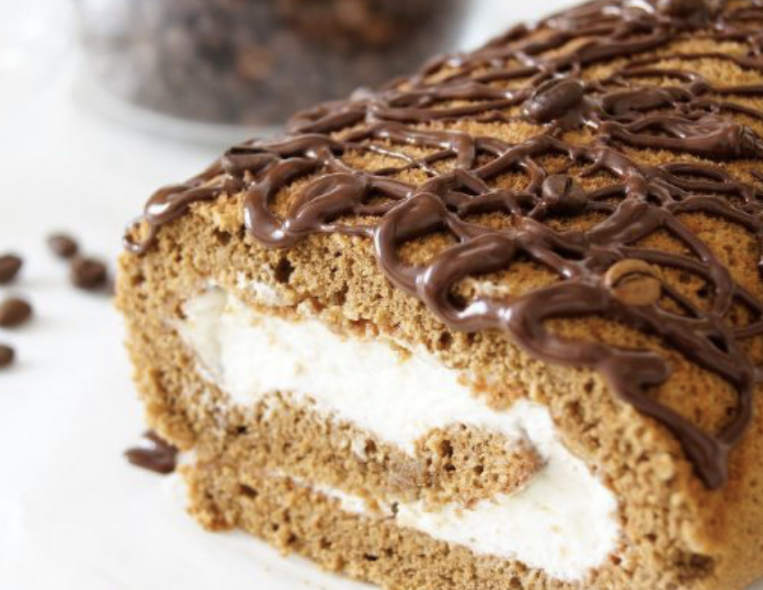 The roll is extremely aromatic and the recipe for the coffee biscuit is very successful. The smell of coffee in the kitchen after baking will last for a long time!
Ingredients
For the biscuit:
Eggs – 5 pcs.
Sugar – 150 g
Flour – 150 g
Baking powder – 1 teaspoon
Instant coffee – 4 tbsp
Water (if necessary) – 1 tbsp
For the cream:
Cream 33-35% – 250 g
Sugar – 75 g
Liqueur "Baileys" – 100 ml
For decoration:
Directions
Let's start with the main thing – with a biscuit.
Sift flour with baking powder. If the coffee is NOT granulated, add to flour. If granules, dilute in 1 tbsp of hot water and pour into the yolks (I had granular).
Separate the yolks from the whites.
Beat the yolks with 2/3 of the sugar until they become white foam.
Pour in coffee.
Good, but stir gently.
Pour flour into portions. Stir gently with a spatula.
Beat the whites with the remaining sugar into a dense foam.
Add portions into the egg-flour mixture. Mix thoroughly.

Turn on the oven, preheat to 190 degrees.
Line a baking sheet with parchment. Put the dough out, distribute evenly (I have a baking sheet 42×33 cm. The biscuit turned out to be 40×30 cm).
Bake a sponge cake for a coffee roll in an oven preheated to 190 degrees for 12 minutes. Until ready.
Spread out a clean towel, put a hot (!) Sponge cake on it along with parchment. Roll up. Cool completely.
Expand the cooled roll. Remove the parchment. Put on a clean sheet of parchment.
Whip the cooled cream with sugar. Pour the chilled liquor in a thin stream, beating without stopping. Expand the biscuit. Distribute the cream in such a way that there is more cream from the end from which you begin to roll. When rolling, the cream will squeeze out a little.
Roll up the roll and put it in the refrigerator for a couple of hours.
Take the rollout of the refrigerator, trim the edges.
Melt the chocolate in a water bath or the microwave. Transfer to something. (In nature, there are special decorators for chocolate, glaze, etc.) I put it in a regular bag, cut off the corner and that's it. Decorate the roll with chocolate.
The coffee roll is ready.

You can serve a coffee roll to the table.
Enjoy your meal!
Also Like
Comments for "Coffee Roll with Baileys Liqueur"