Fruit Chips Made from Apples, Pears and Bananas
by Editorial Staff
Apple, pear and banana chips are a delicious and healthy alternative to unhealthy snacks. Fruit chips are crispy, spicy and flavorful. With such a snack, you can crunch without harm to the figure under your favorite TV series.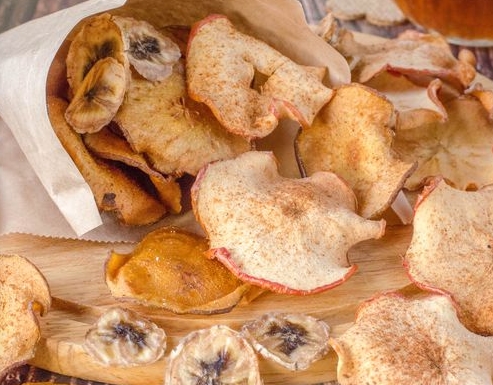 Cook: 1 hour 30 mins
Servings: 2
Directions
We prepare products for apple, pear and banana chips. You will also need parchment paper during cooking.

Cut the apples into very thin slices and remove the seeds. The slices should be nearly transparent.

We cut the pear in the same way.
Peel the bananas and cut into slices 3-4 mm thick.
We turn on the oven to heat up to 100 degrees. If your oven supports convection mode, turn it on. If there is no such mode, it may take 20-30 minutes longer to prepare the chips.
Place the sliced ​​apples on a baking sheet lined with parchment paper.
Put the pear slices there.
Put the banana slices on a separate baking sheet lined with parchment paper.
Combine powdered sugar, cinnamon and ginger.
Sprinkle the chips with a mixture of powdered sugar and spices through a strainer.
Dry apple and pear chips in the oven for 30 minutes. Then we take out the baking sheet, turn the chips over and put them in the oven for another 30 minutes.
Dry the banana chips in the oven for 1 hour 20 minutes.
Carefully remove the finished chips from the parchment. Let the chips cool completely.

Apple, pear, and banana chips are ready.
Bon Appetit!
Also Like
Comments for "Fruit Chips Made from Apples, Pears and Bananas"