Milk Soup with Dumplings
by Editorial Staff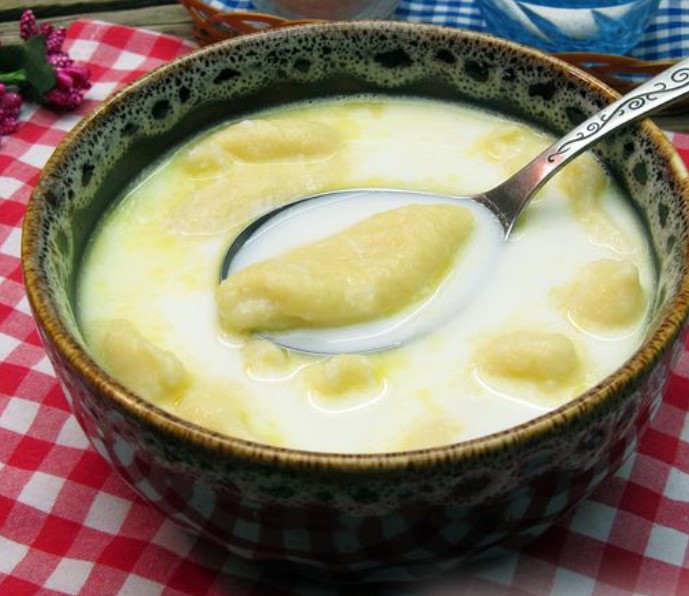 There are many recipes for dairy soups. I would like to propose an interesting recipe for a delicious milk soup with dumplings. It will take very little time to prepare such a soup, but such an original breakfast of simple products will surely delight you!
Servings: 6
Ingredients
Milk – 500 ml
Flour – 2 tbsp (60 g)
Egg – 1 pc.
Sugar – 1 / 2-3 / 4 tbsp (10-15 g, to taste)
Salt – 1 pinch (to taste)
Butter – 15 g
Directions
We prepare all the necessary products.

Pour milk into a saucepan or saucepan, put on medium heat and bring to a boil. Make sure that the milk does not "run away".
Mix and grind the dough well so that there are no lumps left.
Put the dumplings in the boiled milk. To do this, take a little less than a teaspoon of dough in a dessert or tablespoon. With a teaspoon, drop the dumplings into boiling milk. So we form all the dumplings until the dough ends.
Stir, reduce heat to low and cook milk soup with dumplings for about 5-7 minutes. Stir periodically so that the dumplings do not stick to the bottom of the pan.
Then add sugar, stir and cook the soup for another 1 minute.
Then remove the ready-made milk soup with dumplings from the heat and add the butter.

Stir gently to dissolve the oil.
Put the milk soup with dumplings on plates and serve.

Enjoy your meal!
Also Like
Comments for "Milk Soup with Dumplings"