Taramosalata (Smoked Cod Roe Appetizer)
by Editorial Staff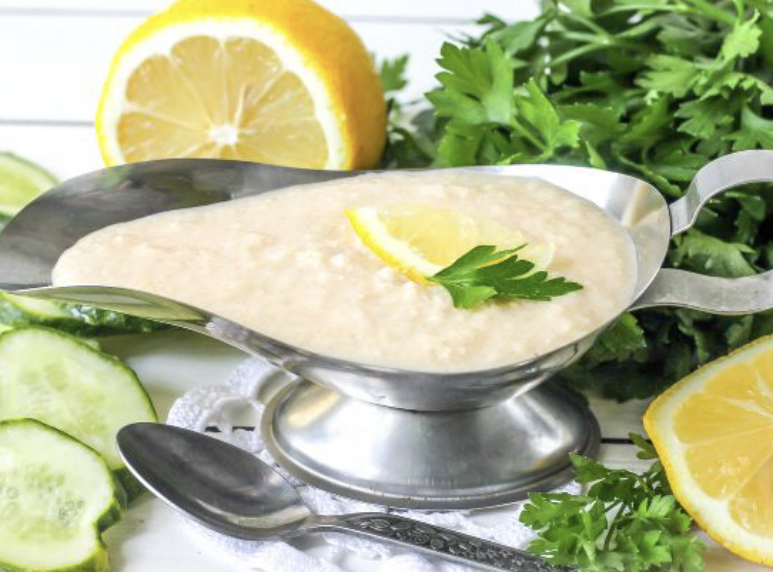 Taramosalata is a Greek appetizer made from smoked cod roe with lemon juice, olive oil, garlic or onions, and white bread. Traditionally, taramosalata is served with olives and fresh bread.
Ingredients
Cod caviar (smoked) – 50-80 g
Bread – 2-3 slices
Lemon juice – 1-1.5 teaspoon.
Olive oil – 1 teaspoon.
Bulb onions (medium) – 1 pc.
Directions
Prepare the required ingredients for the tarasalad. You will need white bread: a loaf or baguette. Smoked cod caviar can be purchased at the store or replaced with pollock, capelin, etc. Onions can be replaced with garlic.

Cut the bread into slices and cut off the baked portion, leaving only a white crumb. Soak it in water for 2-3 minutes.
Then squeeze the crumb out and place it in a deep container. Peel a small onion, rinse and cut into small cubes, add to the bread. Squeeze out the lemon juice.
Put smoked cod caviar there. If it is very salty, then do not add salt and vice versa. Pour in some olive oil.
Grind everything with a hand blender or in the bowl of a food processor until smooth.
(If you want a thicker taramosalata, add a little olive oil and vice versa.)

Place the taramosalata in the gravy boats, garnish to your liking and serve. Cod roe appetizer is stored in the refrigerator for no more than 2 days.
Enjoy your meal!
Also Like
Comments for "Taramosalata (Smoked Cod Roe Appetizer)"