Pork Ribs Baked with Beans and Bread (Cassoulet)
by Editorial Staff
Cassoulet is a French dish made from meat and beans. The name is mysterious – it's easy to cook! There are two main ingredients – pork ribs and beans. Beans for cassoulet can be used as only one type (white), and several different types. And the word "cassoulet" itself means "pot". It was in pots that this dish was prepared in old France. Well, we will use a baking dish.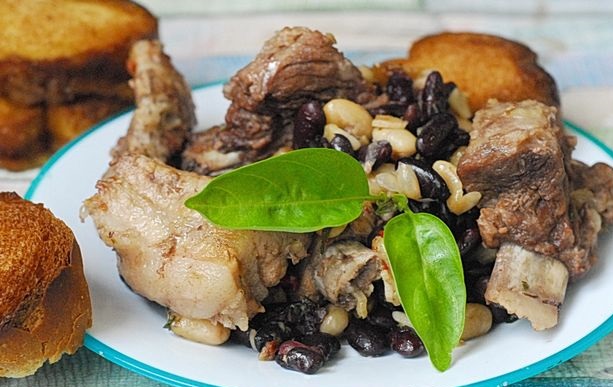 Servings: 6
Ingredients
Dry white beans – 150 g
Dry red beans – 150 g
Pork ribs – 500 g
Pork fat – 150 g
Baguette (or loaf) – 4 pieces
Onions – 50 g
Garlic – 1 clove (5 g)
Fresh chili peppers – to taste
Sunflower oil – 50 ml
Ground paprika – 1 tbsp
Salt – 1 teaspoon (or to taste)
Fresh parsley – 5 g
Directions
We wash the white and red beans separately and soak them in cold water for 6-8 hours (it is most convenient to leave them overnight). After a while, drain the water, rinse the beans again and boil until tender. We take 2.5-3 times more water than the volume of dry beans. Cook from the moment of boiling over low heat under a lid until soft (about 1 hour, time depends on the type of beans). We make sure that the beans are not boiled. From 100 g of dry beans, about 230 g of boiled beans are obtained.

Peel and finely chop the onion and garlic. Rinse the parsley and chop finely. Cut the bacon into pieces.
We send lard to a dry preheated frying pan and melt the fat.

Remove the greaves, add the onion to the fat and fry for 5 minutes. Preheat the oven to 180 degrees.
Wash the pork ribs, dry them with paper towels, and cut them into pieces.
Put the ribs in a frying pan with the onions and salt (about 0.5 teaspoon or to taste).

Fry the ribs in a pan for 7-10 minutes, until lightly browned.
Put the ribs and onions in a baking dish. We wash out the chili pepper (I have a room one – from a flower pot), grind and add to the ribs. There is also garlic and ground paprika.

We spread the beans to the meat so that the meat is almost completely covered. Add salt (about 0.5 teaspoon or to taste).
Sprinkle with chopped parsley.
Cut the baguette or loaf into slices about 1-1.5 cm thick. Place the pieces of baguette in the shape along the edges. We put the form in the oven, heated to 180 degrees, and bake for 50 minutes. We taste the dish with salt and, if necessary, add.

Serve hot pork ribs, baked with beans and bread. Cassoulet is an independent dish, it does not need any additions.
Enjoy your meal!
Also Like
Comments for "Pork Ribs Baked with Beans and Bread (Cassoulet)"